Vans Cold Weather Pack Will Keep Your Feet Toasty and on Point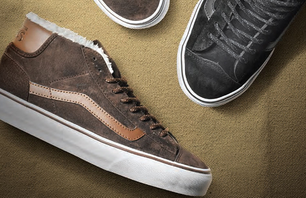 Lace up in one of these Vans Cold Weather Classics
this winter and you're feet will thank you.
It's getting nice and chilly these days. And one of the worst body parts to have cold? Your dome, hands and feet. Luckily for us, Vans has our feet covered this winter season with their Holiday 2012 Cold Weather Classic pack. These classic designs are upgraded with some comfy lining and water-resistant pigskin uppers on the 106 Vulcanized, Era, Mid Skool, and Outdoor Switchback models. Pick some up for yourself or pick some up for a good buddy or significant other which are available in stores now and get a headstart on some of your holiday shopping!