TufRack: Because Your Bike Probably Cost More than Your Car...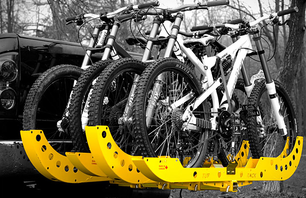 When your bike costs more than your car, strap it on
with a TufRAck
With all the money we shell out tricking our bike and updating each part to the latest, fastest, lightest materials, our bikes probably end up costing more than our cars current worth. So to be sure we take care of our babies to and from the track or park, look no further than the TufRack. Because honestly, those cheap car straps just don't cut it as we climb up some 50% grade mountain. These TufRacks are made with 16-gauge laser cut steel and are gauarnteed to be indestructible. Best part is that the modular design means you're able to customize one bike or four. So your buddy Matt doesn't get stuck shoving his in the backseat.
Credit: Werd.