Travis Rice: 10 Memorable Moments before 'Art of Flight'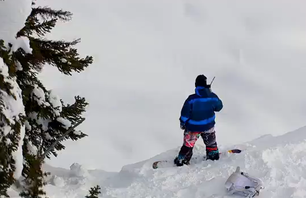 Travis Rice - about to drop in on a new round of
fame with 'Art of Flight'Honestly, it's difficult to imagine a time when Travis Rice wasn't being followed around by the Red Bull helicopter wearing brightly colored Quiksilver outerwear. Owing to the successful pervasiveness of Brain Farm in the collective consciousness of snowboard films, Rice is synonymous with big (enormous) mountains, big (huge) lines, and big (insanely large) production value--easily some of the most impressive snowboarding to watch on screen. But even before the Planet Earth cameras became a mainstay in his travel kit, Rice was blowing minds and making his own path in the world of snowboarding. Before helping to create three of the most anticipated snowboarding films of all time (starting with "The Community Project" in 2006), here (in no particular order) are ten of Rice's accomplishments, contributions, and memorable moments that left everyone waiting to see what he would do next (even folks like Justin Timberlake. How's that for a come up?)
10. Travis emerges at Superpark in 2001
Rice's reputation for a balls-out, yet controlled energy in his riding was introduced to the snowboarding world-at-large when he strapped in at his first Superpark in 2001. Remember the 100+ foot back rodeo? There was no looking back from this season.

More Snowboarding Videos
From MPORA
9. Double backflip 180 at Nissan X-Trail Jam in the Toyko Dome - 2006
The video quality may leave a little to be desired, but the crowd's excitement about Rice stomping his winning trick is unmistakable. And the slomo replay is pretty awesome.
8. And the next year, double backside rodeo 1080 - Icer Air 2007
While Rice's riding has moved even further than these big air tricks from the mid 2000s, the excitement surrounding his wins during this time was huge.
9. Natural Selection - 2008
Rice is a veteran when it comes to big competitions, as well. He has stood on the podium at the X Games, Arctic Challenge, the US Open, and more. In 2008, Rice worked with Quiksilver and Jackson Hole to put on one of the most progressive contests snowboarding has seen, Natural Selection. Seventeen handpicked freestyle snowboarders, two natural areas of the mountain to shred, and seven day waiting period a la a surf contest. The competitors were blanketed by a huge snowstorm and Travis emerged victorious on his home turf. Though Natural Selection didn't return for a repeat, the original website is still up, frozen in time since the contest occurred. Check it out here.
Said Rice about the competition, "snowboarding is self expression," said Rice. "For me the true reward was seeing everyone walk away with smiles of optimism. After talking with the riders it seems as though we have only scratched the surface of a new era. It's nature that provides us with the most limitless canvas to challenge the way we ride."
6. Absinthe "Pop" 2008
The year that Rice and Romain De Marchi threw down on Chad's Gap. Rice's video part was probably one of the most anticipated parts of the whole season and when "Pop" debuted, it didn't disappoint.
5. "That's It That's All" Sweeps 10th Annual TWS Riders Poll Awards - 2009
Image from TransworldSnowboarding
Travis cleaned up at the 10th Annual TWS Rider's poll after his second movie, "That's It That's All" came out. He won Rider of the Year, Video Part of the Year, Video of the Year, and Reader's Choice, four out of the five mens awards (the fifth being Rookie of the Year). This type of sweep was both unusual and completely deserved. Upon arriving home from Las Vegas, he installed extra shelving for his four new awards, and we imagine he'll need to do the same this year, post "Art of Flight." For the full post from Transworld, go here.
Photo by Jon Glass via SnowboardMag
If producing mind-blowing films and pushing snowboarding itself wasn't enough, Rice put another notch in his belt of contributions to the snowboarding community when he launched Asymbol Gallery, along with Mike Parillo. The two are a creative team and created the gallery as a place for people to have access to snowboarding photography and art that previously was not only difficult/impossible to find, but often used once and then buried in storage. Asymbol is a combination gallery/printing studio, that has curated shows across the country in New York City. Order prints from their website, visit their homebase in Jackson, Wyoming, or check out the accompanying art show in NYC around the World Premiere of "Art of Flight". Last January, Tawyna Schultz with SnowboardMag visited Asymbol and got the low down, here.
3. Cameo in "Throw Your Panties" - 2008
Canada's favorite eccentric son, Andrew Hardingham, made a movie called "Throw Your Panties" a few years ago and was humble enough to allow Rice three shots in the flick. It was sort of a re-imagining of snowboarding, a snowboarding revisionist film, if you will. It's a departure from most of Rice's movie parts and deftly shows the side of him that is comic, dedicated, and loyal to his friends, even when they're sitting in a chocolate milk hot tub eating ice cream off a gentleman's leg.
2. Ender in Grenade's "Night of the Living Shred" - 2004
Rice's shots in the Grenade movies were always fun to watch. The punk rock, DIY style of these movies was a breath of fresh air in the early 2000's when they came out. Rice closed out 2003's "Night of the Living Shred" and not only landed trick after trick, but saved Hana Beaman from a zombie attack. You can watch the intro on MPORA and purchase the movie from Amazon.
1. The latest "Art of Flight" tease, Travis' World of Red Bull tv spot - 2011
Well, this may not exactly be a previous accomplishment, but with all of the excitement leading up to September 7th, when "Art of Flight" premieres in New York City, the latest teaser that dropped during MTV's Video Music Awards last Sunday, continues to build the hype to epic proportions. Luckily for all excited viewers, Rice's track record instills confidence that "Art of Flight" will not disappoint.