Tom Schaar Sticks 1080 at Pantech Beach Championships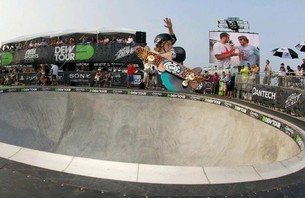 Tom Schaar lighting it up at the Pantech Beach
Championships
The final day of the Pantech Beach Championships wrapped up on Sunday with plenty of action going down in the Skate Bowl, BMX Park and the Mega 2.0TM event in which both BMX and Skate participants competed in for the first time ever at the Dew Tour.
Pedro Barros won his second consecutive Skate Bowl title, with a string of rad tricks that included sending a huge alley-oop indy over the hip to a massive 540 to win the event.
"It feels amazing to win again in Ocean City," said Barros. "There's something about the energy here, it's been really good to me. I am stoked to win a second time."
Brett Banasiewicz became a first-time Dew Tour winner in his first major park competition. Brett held onto the winning score on his first run which included a front flip no hander, 360 triple whip and cash roll and was left untouchable in both runs.
"I'm really excited that I finally won a big park contest and what better place than the Pantech Beach Championships," said Banasiewicz. "I was so glad to ride clean and solid for all three runs."
[removed][removed]
To shake things up, the Dew Tour added for the first time ever--the Mega 2.0TM to its list of events. Both skate and BMX athletes competed in the Mega 2.0 and it was 12-year-old skateboard prodigy Tom Schaar that landed a 1080 to steal the show.
"I'm so stoked," said Schaar, after gaining the win in his third event of the weekend. "I'm a little tired after skating in all these events, and I didn't expect to do this well since I didn't get a lot of practice on the ramp. I guess I got a little lucky." Schaar first landed the 1080 five months ago, and is still the only skateboarder to successfully complete the trick.
In the BMX Mega 2.0TM competition, Zackery Warden edged out a tie with Chad Kagy on his final run with a backflip bike flip into a triple tailwhip along with his consistent runs that earned him the top spot.
"It means a lot to win, especially at Mega 2.0TM at the Beach stop of the Dew Tour," said Warden. "I've been riding this ramp a lot and I've been on the Dew Tour for seven years now, so to finally pull out a win here in Ocean City means a lot to me."
[removed][removed]
The Dew Tour continues on for its City stop in San Francisco October 18-21 and will culminate in December in Breckenridge, Colo. for the Mountain stop of the 2012 season.
BMX Mega 2.0 Final Results
1. Zackery Warden, Mo., 91.63.
2. Chad Kagy Calif., 91.63.
3. Vince Byron, Australia, 90.38.
4. Colton Satterfield, Utah, 90.00.
5. Austin Coleman, Calif., 88.25.
6. James Foster, Calif., 88.13.
7. Steve McCann, Australia, 87.50.
8. Kevin Robinson, RI, 87.38.
9. Morgan Wade, Texas, 86.50.
10. Anthony Napolitan, Ohio, 86.00.
BMX Park Final Results
1. Brett Banasiewicz, Ind., 92.75.
2. Kyle Baldock, Australia, 92.25.
3. Scotty Cranmer, NJ, 91.75.
4. Ryan Nyquist, Calif., 91.63.
5. Daniel Sandoval, Calif., 88.75.
6. Harry Main, Great Britain, 88.38.
Skate Bowl Final Results
1.Pedro Barros, Brazil, 85.76.
2. Bucky Lasek, Md., 84.13.
3. Ben Hatchell, Va., 83.38.
4. Sandro Dias, Brazil, 82.88.
5. Tom Schaar, Calif., 82.01.
6. Alex Sorgente, Fla., 81.25.
7. Andy Macdonald, Mass., 79.63.
8. Joshua Rodriguez, Calif., 78.88.
9. Kalani David, Hawaii, 78.13.
10. Zach Miller, Calif., 75.01.
Skate Mega 2.0 Final Results
1. Tom Schaar, Calif., 89.00.
2. Elliot Sloan, NY, 87.00.
3. Bob Burnquist, Brazil, 86.75.
4. Mitchie Brusco, Calif., 86.50.
5. Pierre-Luc Gagnon, Canada, 85.75.
6. Adam Taylor, Fla., 79.50.
7. Ronaldo Gomes, Brazil, 78.50.
8. Andy Macdonald, Mass., 78.25.
9. Jagger Eaton, Ariz., 77.25.
10. Edgar Pereira, Brazil, 42.00.