The Twitter Snap: The Latest and Most Interesting Tweets from Pro Surfers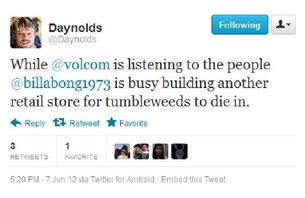 Dane Reynolds owning The Twitter Snap as usual. Here he credits Volcom for running a free surfing session
during the massive swell that hit Cloudbreak and webcasting it, while destroying Billabong in the process.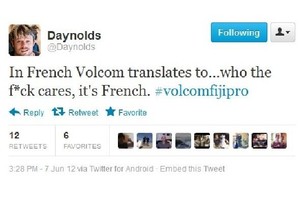 Although he doesn't pull any punches with Volcom. This is in reference to Volcom now being owned by some
French fashion company.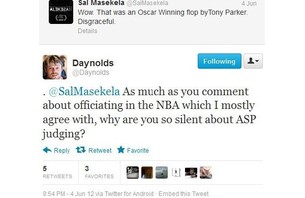 Have to love Dane for calling people out. In this case he rips on Sal Masekela for not being critical of ASP
judging.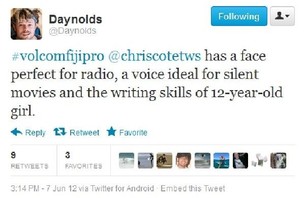 All so true. Literally the worse webcast commentator ever, amateur hour at its finest. Dave Stanfield
continues to go a great job though.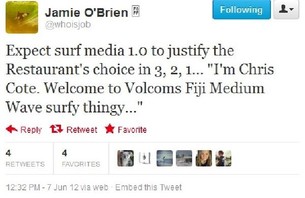 Dane Reynolds wasn't the only one calling out the horrendous webcast commentating for what it is.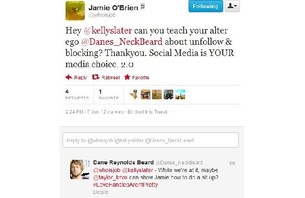 Jamie O'Brien has this theory that Kelly Slater uses an anonymous twitter account to post less politically
correct posts. The profile responds by joking on O'Brien's lack of sit up form.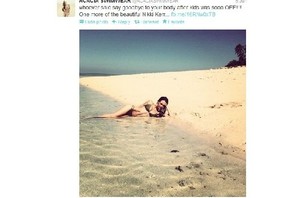 A lot of the pro surfers in Fiji decided to post hot photos of their wives and girlfriends wearing little
bikinis. Here Josh Kerr takes a pic of his wife modeling for some swimsuit company.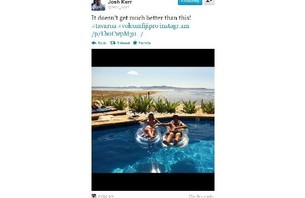 Another photo of Josh Kerr's wife wearing a bikini in Fiji, Kerr joins in on the fun for this one.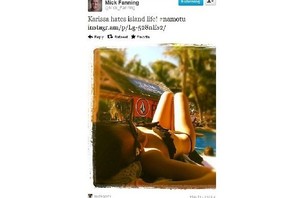 Mick Fanning joins in on the fun, posting a ridiculously hot photo of his wife Karissa laying out in a bikini.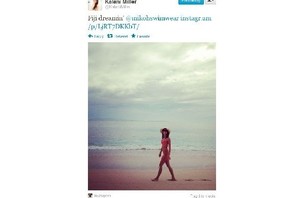 Kelly Slater's girlfriend Kalani Miller taking a stroll on a beach in Fiji modeling her bikini company Mikoh
Swimwear.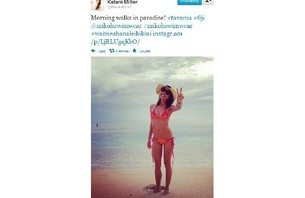 What, you thought the greatest surfer in the world was going to date an uggo? You're crazy.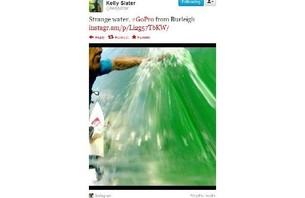 Besides joining in on showing off their hot girlfriends and wives. Kelly Slater also posted a GoPro photo of
him surfing in Australia.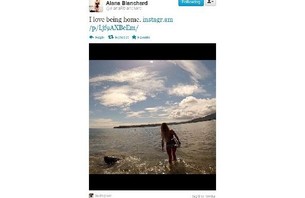 We love it when you wear a bikini and show off that ridiculously hot body of yours Alana.