The Shadow! Where Is He? Who Is He?!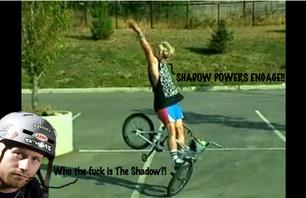 How does one even try to encompass and explain who and what The Shadow was...? He was an innovator, a pioneer, an all american badass. Some would say that the future of BMX died when Ray "The Shadow" DeMoulin was admitted to an Ohio state mental institution... Others say that it was merely a cover up and that The Shadow lives amongst us today in the refuge of Utah under the name Tim "Fuzzy" Hall...
I guess we'll never know the true story of The Shadow but he'll always live on in our hearts.
"That's The Shadow, because you know he's the greatest, that's the future of the whole sport..." -Some Guy