Surfer Captures Shark Feeding Frenzy at Water's Edge
Sharks attack whale from Rachel Campbell on Vimeo.
Pro surfer Rachel Campbell poses just a few meters
from a shark feeding frenzy. Credit: Rachel
Campbell/Billabong
A large shark swims in ankle deep water in
northwestern Australia while feeding on a dead
whale. Credit: Rachel Campbell/Billabong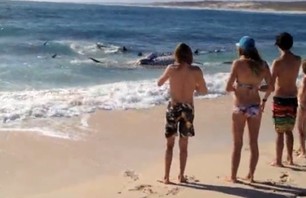 This video screenshot shows Rachel Campbell and
friends watching the feeding frenzy from the water's
edge.
Rachel Campbell in action. Photo: BillabongIn an amazing video posted on Vimeo June 19, pro surfer Rachel Campbell, from Stanwell Park, New South Whales, along with her mother, brother Tom and friends Riley and Ahsah Killham capture dozens of sharks feeding on a whale carcass as it washed on a beach in northwest Australia.
In describing the incident on her blog on BillabongGirls.com, Campbell remarked:
"I was collecting shells along the beach with my mum. Searching the white sand while crystal water lapped at my ankles, I was shocked to find my worst nightmare dominating the shoreline a mere 400m ahead… Picture about thirty sharks, most of which seemed to be tiger sharks, all destroying a whale laying only a few feet from the shore. The nightmare part was the mass of sharks devouring the one victim."
In the video footage it's clear there are a number of animals aggressively attacking the dead whale, though accordingly to Campbell there was a long lunch line.
"The horror was only growing as I scanned along the beach. Over-sized beasts lined a stretch as far as I could see. Before long I realized there were about 100 sharks in total, some as long as 4m (12ft), all in a frenzy over fresh whale flesh."
It's not uncommon to see footage of sharks patrolling within a few meters of swimmers and surfers as is often captured from a overhead helicopter cameras, but to witness such a frenzied attack on a beached whale in the surf line is extraordinary.
"Sharks are providing a useful ecological service by consuming such carcasses and removing them from the ecosystem," says Dr. John McCosker, lead shark researcher at the California Academy of Sciences. "Several shark species, including the White Shark, Tiger Shark and Bull Shark in American coastal waters are carrion feeders and will gorge themselves on a whale carcass even as it washes ashore."
For Campbell the presence of so many sharks may have made her think twice but won't keep her out of the water.
"I am well aware of those beasts outside my control. I will still surf here though, because it's not about merely surviving this ocean, it's about living and breathing everything that this crazy place has to offer. Let's just hope those sharks are full for now."