Subaru Rally Team USA Announces 2010 Roster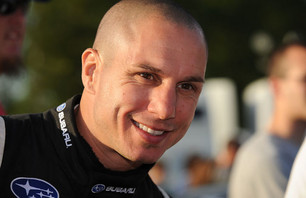 Photo: Subaru Rally Team USA - Lars Gange
Dave Mirra fills the open (class) spot on Subaru Rally Team USA - and is happy to do so.[Wow! Twenty-ten - a rally odyssey. Not a ton of surprises for the new SRT USA roster. However, Mirra's ascension into Open Class will put him in a faster car than he's had access to in the past. It'll also put him in the mix at the top, putting more pressure on other Open Class drivers. How do you feel about Subaru Rally Team losing Ken Block to Ford? Do you think Dave Mirra is ready for Open Class?]
From Subaru Rally Team USA Press Release:
Returns to Rally America Series with 4-Time, Reigning Champ Travis Pastrana and Dave Mirra

Subaru Rally Team USA announced today that reigning four-time Rally America National Champion Travis Pastrana and BMX Freestyle legend Dave Mirra will both return as factory team drivers. Subaru Rally Team USA will contest the entire 2010 Rally America National Championship, ESPN s X Games 16 Rally Car Racing event as well as participate in Rally America s new and highly anticipated European-style rally cross exhibition events. Pastrana and Mirra will each pilot a 2010 Subaru Impreza WRX STI rally car prepared by Subaru technical partner Vermont SportsCar.


Photo: Subaru Rally Team USA - Lars Gange
Pastrana will be with Subaru again in 2010.Action sports icon and rally champion Pastrana has driven exclusively for the Subaru brand since he first began to compete in rally in 2004. Pastrana has dominated rallying in the USA since 2006 and has amassed eighteen overall rally victories, thirty-six podiums and two Golds, a Bronze and Silver medals at the ESPN X Games Rally Car events. Subaru is like family to me; they have given me every opportunity and resource available to help me become rally champion, explained Travis Pastrana. The sport has grown and the competition in 2010 will be better than ever and so I m glad to be in the best car with the best team again to go for my fifth championship. As in 2009, Pastrana will have co-driver Christian Edstrom at his side for his rally campaign.

Mirra, who became a pro BMX rider in 1992, holds the record for most X Games medals (including most Gold medals), and has medaled in every X Games since their inception in 1995. He is recognized as one of the World's most well known Action Sports athletes and is credited with bringing freestyle BMX into the mainstream. Mirra began a transition to rally racing in late 2007 and joined Subaru Rally Team USA in 2008 where he earned Rally America s Rookie of the Year. I m so excited to get back in my STI for the 2010 Rally America Championship! exclaimed Mirra. It s great having the support of Subaru to race with the best drivers in North America and allowing me to develop as a rally driver. The Subaru Impreza WRX STI is the best car for rallying and my teammate and mentor, Travis Pastrana, is the four-time champion. Is that a dream or what? Mirra will again team with former WRC champion co-driver Derek Ringer who has been instrumental in Mirra s rapid ascension to a top driver in the Rally America Championship. Mirra will move up to an Open Class Subaru WRX STI from that of a lower specification Super Production class Subaru that he campaigned in 2009.


Photo: Subaru Rally Team USA - Lars Gange
SRT USA will enjoy new 2010 Subaru STI rallycars this season!"We've made some significant gains in building both brand and team recognition while showcasing the performance capabilities of the Subaru Impreza WRX STI," said James Han, motorsports marketing manager for Subaru of America, Inc. "I'm pleased with our 2010 driver line-up comprised of Travis and Dave and excited at the prospect of retaining the Rally America National Championship title in what should prove to be an exciting rally season."

Long time Subaru driver Ken Block will be departing Subaru Rally Team USA for 2010. It was a pleasure having Ken [Block] as part of Subaru Rally Team USA (SRT USA) from the very start of his rally career and supporting him in securing Rally America's Rookie of the Year honors for 2005, said James Han, Motorsports Marketing Manager for Subaru of America, Inc.

Subaru Rally Team USA will be in action again in less than three weeks on the snow and ice-covered roads of Michigan s Sno*Drift Rally. The team will then crisscross the country over the next seven months to compete in Rally America National Championship events in Missouri, Washington, Oregon, Pennsylvania and New England. In early August the team will star yet again at the ESPN X Games Rally Car racing event.

The team will also officially participate in Rally America s new European-style rally cross events in the fall of 2010. Rally America have announced they will hold three European-style rally cross events in 2010, to be run as exhibition events in 2010 with the expectation of more events on the 2011 calendar. European-style rally cross combines disciplines from road racing, short-course off-road racing and X Games-style rally car racing.

For more information on Subaru Rally Team USA please visit rally.subaru.com or follow the team on Twitter at twitter.com/srtusa