Street Beat: DROP MFG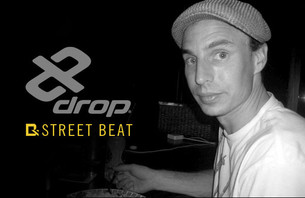 Photo: DROP
Chris Gougeon, Senior Designer at DROPEstablished in 1998, DROP is a technically-driven accessories company run by a tight-knit crew deeply rooted in action sports. DROP has firmly established itself as one of the top accessories brands in the game. I mean, just look at their team. DROP is backed by world-class snowboarders like Simon Chamberlain and Heikki Sorsa.

With 12 years experience, DROP knows a thing or two about gloves. And as you will come to read, it was only natural for them to expand into goggles. Chris Gougeon, DROP Senior Designer, explains their full 2010/2011 collection below. Enjoy!
- Danny Spyra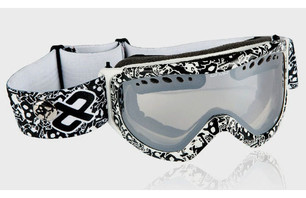 Photo: DROP
The LAAX goggles from DROP's initial collection
BNQT - LONG KNOWN AS ONE OF THE TOP GLOVE BRANDS IN THE INDUSTRY, DROP IS EXPANDING INTO GOGGLES. TELL US BRIEFLY ABOUT THE INITIAL COLLECTION.
Chris - At DROP, we've had the resources to get into the goggle game for as long as our company has been around, but we didn't want to make goggles just because we "could." There were already a lot of great goggles out there. For us to get into a new category, we needed something new and different to bring to the table, and we finally found it (described further in question 3).
Our introduction into the goggle world is a tight collection of what we found, after some market research, to be the most important features and price points customers are looking for. We have one junior's frame, two women's specific models and three men's, all offered in an array of colors and graphics.
The design was developed with ex-pro-turned-designer Seth Neary from Driven Studio in Vermont. Seth did an incredible job with the graphics as well as the development of brand new technical features and proprietary frame molds. Our goggles aren't coming out of the community bin.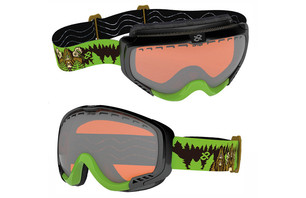 Photo: DROP
The DROP DPI series features rad artwork by BigfootBNQT - CAN'T GO WRONG WITH A TECHNICAL GOGGLE FEATURING KILLER ARTWORK. WHAT WAS THE INSPIRATION FOR THE DPI SERIES?
Chris - DPI stands for "DROP Pure Inspiration" and it's our way of paying tribute to some of the creative individuals within our community that have, and continue to, inspire us and make our world more interesting.
Our initial DPI Series two seasons ago was a glove and accessory collection featuring artwork by the legendary Mark Gonzales (definitely a highlight in my career). And last year we were lucky enough to work with Bigfoot on an eco-friendly pipe glove.
For the third installment of the DPI Series, this season we're stoked to have had the incredible Andy Jenkins put his stamp on our new 1080p pipe glove as well as our top-of-the-line ESPI goggle. On top of Andy, our continuing relationship with Bigfoot brings us his version of the ESPI goggle as well.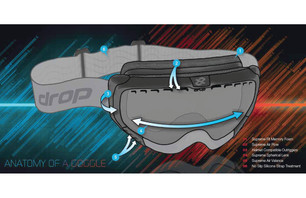 Photo: DROP
The anatomy of DROP goggles
BNQT - WHAT DIFFERENTIATES DROP GOGGLES FROM THE REST? CAN YOU DESCRIBE THE TECHNOLOGIES THEY FEATURE?
Chris - As mentioned in the first question, we weren't going to do this unless we had something new and different to offer, and that came to us through Seth Neary in the form of MEMORY FOAM. Our "Supreme Fit Memory Foam" is, hands down, what differentiates us from the rest. We have integrated memory foam between the fleece and the frame, to give riders an incredible fit every time they put the goggle on. It is featured on our flagship models, ESPI for men and SPR MDL for women.
Aside from our memory foam, we offer all the other technical features you could be looking for in a goggle including spherical lenses, outriggers for helmet compatibility, technical ventilation systems for moisture management, etc.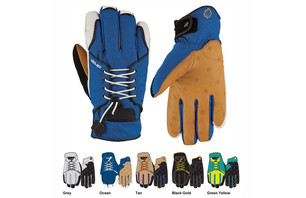 Photo: DROP
The Laced Up Gloves, inspired by sneakers
BNQT - SWITCHING BACK TO YOUR BREAD AND BUTTER, GLOVES...WHAT MAKES DROP'S 2010/2011 GLOVE LINE IT'S MOST PROGRESSIVE TO DATE?
Chris - DROP has always been on the cutting edge of glove technology and style, so in that sense I feel like every collection is more progressive than the last. Beyond that though, I would say we're just having a bit more fun with graphics like on the 1080p, as well as design ideas like the sneaker-inspired Laced-Up, and we're also using more vibrant, eye-catching colors.
Another point of progression I would say we're making is blurring the lines between a standard cold-weather glove and more fashion-forward pipe glove, particularly with our new Boundary III series. Part of our Multi-Climate category, it's built for cold weather with a hefty insulation package and Aquabloc waterproof/breathable insert, but also features a dope silicone printed palm and a couple different graphic options, depending on colorway. Basically a kid in Wisconsin can look just as cool as his Big Bear counterpart, but actually stay warm, too. And at $45, it's easily affordable.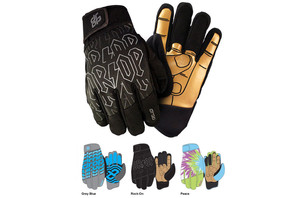 Photo: DROP
The DROP 1080P has some awesome graphicsBNQT - LOVE THE COLORWAYS ON THE 1080p. DID YOU HAVE MORE FUN WITH THE PALM GRAPHICS ON THIS MODEL?
Chris - Thanks! Yeah, the 1080p was the one I had the most fun with, for sure. It's got a good sized panel on the back of the hand that allowed us to get creative with graphics, and every colorway has different ones.
The Rock-On was the first one using the hand gesture on the palm with the horns (RIP Dio!), and then the Peace one came about because we figured if we had one for the rockers, we also needed one for the hippies! More fun to come next season with this style too. Stay tuned...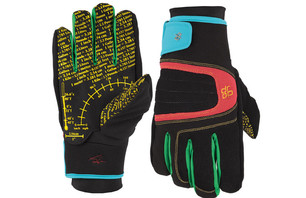 Photo: DROP
Simon Chamberlain's aptly named glove - The SimonBNQT - THE SIMON HAS TO BE PRETTY SICK FOR MR. CHAMBERLAIN TO CLAIM IT. WHAT FEATURES DOES HIS SIGNATURE GLOVE HAVE?
Chris - The main thing Simon wanted out of his glove was breathability. As we all know, city jibbing means a lot of hiking back up the steps to hit it again, and Simon's hands would actually get too hot sometimes. So to target that issue, we used a lot of breathable airmesh on the back of the glove, making it one of our most breathable gloves to date. Along with that, it features an Aquabloc Waterproof, Windproof, Breathable insert and a moisture-wicking microfleece lining and inner cuff to keep your hands dry and comfy.
The artwork on the palm is just a fun testament to Simon's traveling nature. It features a bunch of different conversions, so depending on what side of the border he's on he can always figure out the right temperature, speed, etc. It's also done in silicone to help with sticky grabs.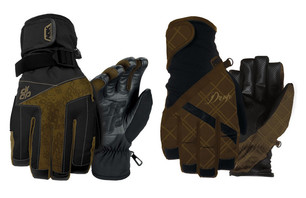 Photo: DROP
The Verde series of gloves for men and women.
Eco-friendly features and true performance.
BNQT - LIKE ITS NAMESAKE, THE VERDE SERIES IS JUST THAT: GREEN. WHAT KIND OF ECO-FRIENDLY ELEMENTS DOES IT FEATURE?
Chris - Gloves in our Verde Series feature as many eco-friendly elements as we could put in a glove. The back of hand shells are done in a three-layer softshell fabric made from recycled fibers. The palms and some trim use chrome free leathers. The chrome generally used in the leather dying process creates a very harmful bi-product that can end up in rivers and lakes; chrome free leathers use a vegetable based dying process instead. For the insulation, we are using 3M's Recycled Thinsulate package, again produced from recycled fibers. Combining all these elements creates a great performing glove that's a little less harsh on Mother Nature.
Street Beat Archive:
Elizabeth Miller with Flat Fitty
Anna Sherwood with Quiksilver Women
Bob Carlson with Arbor Collective
Whitney Morris with O'Neill Girls
Dustin & Dylan Odbert with ambsn
John Harbin with West Wetsuits
Nicole Hanriot with TAVIK Swimwear
Matt Gleason with Liquid Force
Jonathan Paskowitz with Lightning Bolt
Chris Brunstetter with Goldcoast Longboards