Street Beat: Arnette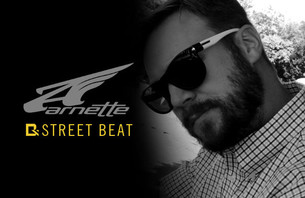 Photo: Arnette
Joe Freitag, Arnette Global Brand ManagerMost humans only have two eyes. Fortunately, we have companies like Arnette to protect 'em. Established in 1992 in an Orange County garage, Arnette continuously pushes the eyewear envelope in terms of design, style & performance.
Today Arnette's frames can be found on hard-charging athletes like Fred Patacchia & Pat Duffy. Considering each pair is meticulously designed with the highest-grade materials, you can't go wrong with Arnette on your face. Joe Freitag, Arnette Global Brand Manager, was psyched to get involved with Street Beat. Enjoy!
- Danny Spyra
Photo: Danny Spyra
Arnette's sleek new site
BNQT - FIRST OFF, CONGRATS ON THE SITE RE-DESIGN; IT'S LOOKING SHARP AND I DIG THE ATHLETE TWITTER FEEDS. WHAT OTHER KINDS OF CHANGES DID YOU MAKE TO THE SITE?
 
Joe - Thank you. Our web team did a great job and deserves a huge pat on the back. The site went through a complete overhaul to ensure that we re providing the best possible brand information while keeping people entertained. Providing fresh content on a regular basis is very important to us, so in addition to brand and athlete Twitter feeds, our blog is featured front-and-center and is updated daily. All of our regions have the ability to post what s going on in their part of the world so it's easy to stay engaged with Arnette happenings across the globe.
Photo: Arnette
The Stakeout shades
BNQT - ARNETTE IS RELEASING THREE NEW MODELS FOR FALL/WINTER 2010. CAN YOU TELL US A BIT ABOUT EACH FRAME?
 
Joe - Creative inspiration for this release came largely from the eclectic styles and personalities of our athletes. A few of the key design points include taking cues from vintage styling, incorporating unique design details, and offering a mix of vivid and traditional frame colors while ensuring they fit great and offer solid value. It's definitely one of our most fun and exciting releases of the year. The Fire Drill, Stakeout and Wager each posses their own unique personality and reason for living in the line.
 
The Fire Drill is hands down the new team favorite. It's a large retro-inspired 6-base square frame that comes in a fun array of colors, including our limited edition Gas Station pack available exclusively at select retailers.
 
The Wager is a slick medium sized 6-base frame with a classic throwback feel. It has a semi-straight brow, thick arms and rectangular lenses with a slightly more traditional color palette.
 
The Stakeout is a large navigator style wire frame with slim temples, split bridge and rectangular lenses. It's the new sibling of our old-school aviator, the One Time.
Photo: Carl Steindler
Arnette celebrated the release of their 3 new frames
during the Night of the Undead party
BNQT - SPEAKING OF NEW PRODUCT, HOW DID THE RELEASE PARTY GO THIS PAST SATURDAY? I HEARD YOU GUYS TOOK OVER THE TIKI BAR?
 
Joe - The party was insane! We partnered with BL!SSS and Shorescrew and blew up the Tiki Bar. The crowd was great with tons of people in full Halloween gear, and the Snakebit Drifters and Skatanic Rednecks slayed it.
Photo: Arnette
The Fire Drill frame
BNQT - LIKE YOUR TEAM RIDERS, I'M REALLY FEELING THE FIRE DRILL. WHAT WAS THE INSPIRATION FOR IT?
 
Joe - We wanted to do a frame that was fun and timeless that a lot of different kinds of people can wear, but at the same time wasn't your typical retro style frame. It's loud enough for those that want to make a statement with their shades, but has just enough class for those that don t want to be too flashy. The fit is amazing and it's versatile enough for a variety of head shapes. We also wanted the Fire Drill to be a great value, which is why it has an MSRP of $69.95 for non-polarized, and $99.95 for the polarized colorways.
Photo: Arnette
Ford Archbold rocks the Arnette Blowout shadesBNQT - FORD ARCHBOLD HAS BEEN ROCKING THE BLOWOUTS LATELY. TELL US A BIT ABOUT THIS FRAME.
 
Joe - When Ford joined the family we sat down with him right away to get his input on what kind of frame he'd like to wear. Needless to say, he has style for days and gave us lots of great input on shape, size, colors, etc. and our design team took it from there. The Blowout is our take on a classic round silhouette with incredible fit that both guys and girls can wear.
Photo: Arnette
The Arnette Bowl Bash party is TOMORROW. Hit it up!
BNQT - SO ARNETTE'S THROWING A BOWL BASH AT THE ETNIES PARK TOMORROW. WHAT ARE THE DETAILS?
 
Joe - We're presenting the Hallows Eve Bowl Bash at the Etnies Skatepark of Lake Forest this Friday the 29th. In addition to sponsored and up-and-coming local rippers competing for cash, we'll have lots of different ways people can win Arnette shades and swag. It's all about having fun, so people that come dressed up can expect to be in the running for some cool stuff. A few of our team guys, namely Pat Duffy, Danny Supa and Willy Santos, will be there to judge the contest. We always like to add a twist to any event Arnette is a part of so keep an eye out for our Slush Puppie mobile with free treats for those in attendance.
BNQT - ANY LAST WORDS?
 
Joe - There are a lot of people that work on the brand in many different ways, and they all deserve a huge Thank You. Keep your eye on Arnette in 2011 there are going to be some big things happening that are sure to shake things up a bit. Shameless self-promotion...If you want to find out more about Arnette check out: Arnette.com, Facebook.com/Arnette, Twitter.com/arnetteantics and Youtube.com/arnetteantics.
 
 
 
Street Beat Archive:
Josh Sherman & JJ Thomas with YEA.NICE

Matt Biolos and Ryan Divel with ...LOST
Elizabeth Miller with Flat Fitty
Anna Sherwood with Quiksilver Women
Bob Carlson with Arbor Collective
Whitney Morris with O'Neill Girls
Dustin & Dylan Odbert with ambsn
John Harbin with West Wetsuits
Nicole Hanriot with TAVIK Swimwear
Matt Gleason with Liquid Force
Jonathan Paskowitz with Lightning Bolt
Chris Brunstetter with Goldcoast Longboards