Spotlight: Nyjah Huston's Street League Domination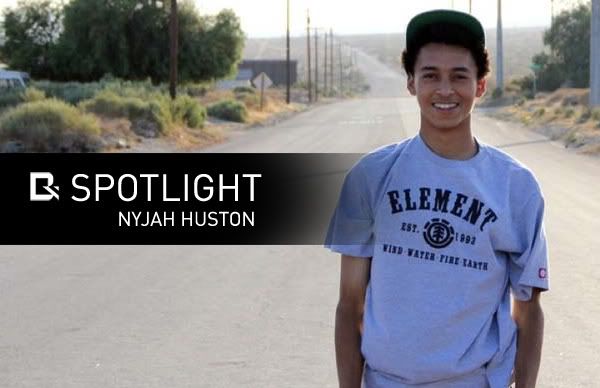 Nyjah Huston - at the top of his game with a long road still ahead. Photo courtesy: Nyjah
If 16-year-old Nyjah Huston wins the the $200,000 top prize at the 2011 Street League Championships this weekend in Newark, he will become the league's first winner-take-all champion and the first skateboarder to earn a combined $1 million in career prize money. The Davis, Calif., native started skating at 5, turned pro at 11, and has been a regular on the podium since. This year he's dominated, winning three Street League events and the gold medal at X Games 17. We were able to catch up with Nyjah over the phone and find out more behind the teen skate phenom's attitude and mindset going into one of the biggest events of his life.
HOW DO YOU FEEL GOING INTO THIS EVENT AND ALL OF THE HYPE SURROUNDING IT?
This event is definitely a lot more important than the ones before. There's a lot of pressure but then again, I put a lot of pressure on myself because I'm the one that wants to win the Championship. At the same time, I've already won the first three contests so I can't put too much pressure on myself because I'm going to have a day when I'm off and that day will come whether I like it or not. I don't expect to win every time but the contest means a lot to me so I'm going to give it my all.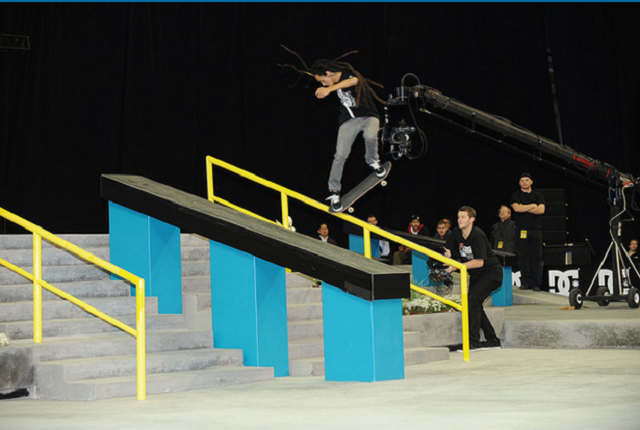 Nyjah executes a backside 270 noseblunt during Street League Finals at Seattle's Key Arena on May 8, 2011. Photo: Shigeo/Street League
YOU'VE HAD QUITE A SEASON, THREE STREET LEAGUE WINS, PREVIOUS STREET LEAGUE EVENTS, AND X GAMES GOLD. WHAT DO YOU ATTRIBUTE YOUR CONSISTENCY TO?
My skating this year has really been on point. I've been more rock solid this year and put in a lot of practicing time going into the first Street League contest of the year. I really wanted to win the first contest of the year and once I got it out of the way some of the pressure was taken off because I already had that under my belt. After that I still wanted to win the next few but I didn't feel like I had to.
WAS THERE ANYTHING SPECIFIC  BETWEEN LAST SEASON AND THIS YEAR THAT HAS GIVEN YOU A COMPETITIVE EDGE?
Yeah, I'm always working on a couple of new tricks and with the Street League format you kind of just have to go with the tricks that you have the most consistency with but still have the difficulty level to score points. Tricks like the back 3 lip, kickflip back lip, kickflip front board, hardflips - tricks that I know I'm comfortable with. Plus the noseblunt 5 - the trick I did in Seattle that I had to bust out at the end. I had spentd two months practicing before I landed in Seattle which scored a 9.9.
HOW IS STREET LEAGUE CONCEPTUALLY DIFFERENT THAN OTHER EVENTS LIKE DEW TOUR, MALOOF MONEY CUP OR X GAMES.
I think it's truly the perfect contest. It's a contest just for skaters and it doesn't have other action sports it needs to compete with. Rob Dyrdek definitely did it the right way. The indoor arena makes it so professional as opposed to skating outdoors where you tend to have your energy taken away by the elements outside. The indoor arena is not only better for the skaters but more comfortable for the crowd to watch and understand. It's a great way for people to learn about professional skate and the skate world.
HOW HAS YOUR LIFE CHANGED AS YOUR SUCCESS HAS GROWN?
It's changed a lot. I've been skating since I was 11 but haven't won a major contest until last year. Before I got so many second places but then everything started going so well and winning the X Games was just a follow up because I had gotten so much better over the last year. Winning that X gold was definitely one of my biggest accomplishments this year.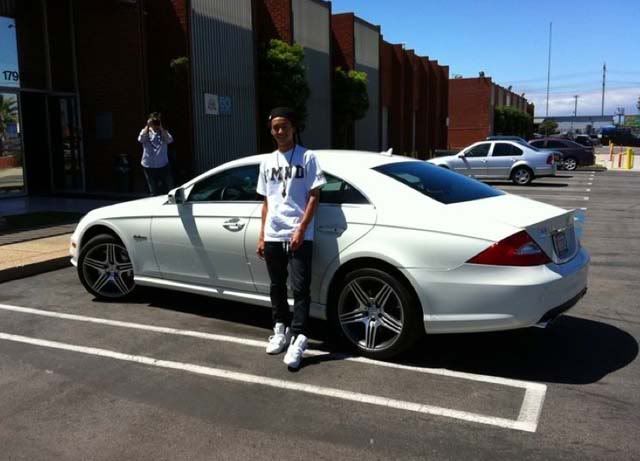 Nyjah's $100K whip - just one perk of closing in on million in winnings. Photo courtesy: Nyjah
AMONG STREET LEAGUE COMPETITORS WHO ARE THE GUYS YOU LOOK UP TO AND RESPECT THE MOST?
Paul Rodriguez has always been one of my favorite skaters. I've skated with him through the years. He has great style and innovation. He's pretty much all-around the perfect street skater. Also, right now, Shane O'Neil is another favorite because he's just so smooth and makes hard tricks look so easy; it's amazing. I look at Chris Cole as pretty much my biggest competition because he's always so close to winning. At the last Street League competition in Arizona, [Ryan] Sheckler was skating really well and then guys like Chaz also did really well. I think the top five guys who are my biggest competition would have to be [Chris] Cole, [Ryan] Sheckler, Shane [O'Neill], Chaz [Ortiz], and [Sean] Malto.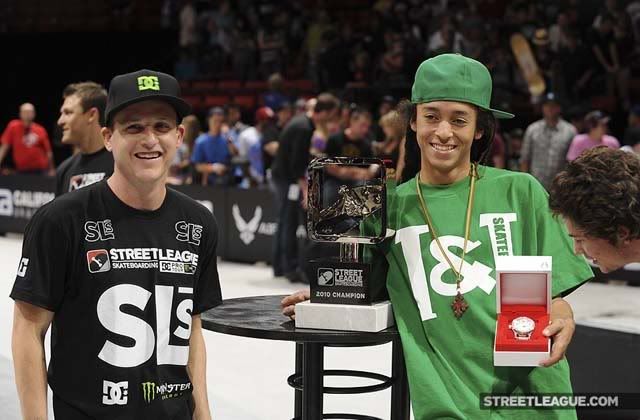 Nyjah hopes to repeat last year's final round win at Street League - worth $200,000. Photo Street League
HOW'S LIFE POST DREADLOCKS?
It's a lot different, the dreadlocks were a lot to handle but it always felt so natural to me because I had them for so long. I always knew I'd cut em some day though but it's definitely different.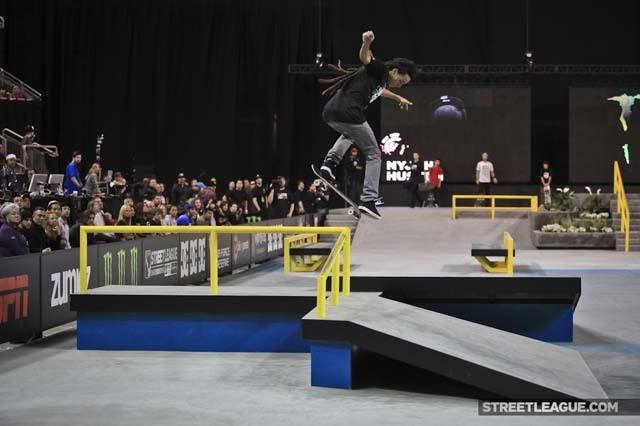 Technical skating with dreads or without - it don't ever matter. Photo Street League
DID YOU FEEL LIGHTER ON YOUR FEET?
Haha - actually they weren't that heavy but just the feeling of my head not having them was a trip. My whole head felt light. It took about a day to get used to the feeling of skating without them.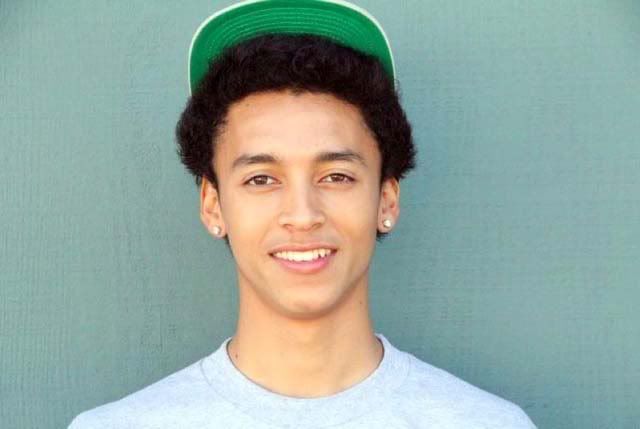 Nyjah - taller, stronger, dreadlock free and happy - and he's just getting started. Photo courtesy: Nyjah
WHAT ARE YOUR TOP 5 CAREER HIGHLIGHTS
1. Learning my first kickflip - I can remember that. I started to skate when I was five so it took a minute to learn a kickflip. The first time I learned that felt so good.
2. Feebling the Hollywood 16 when I was nine is definitely one of them.
3. Winning the Tampa AM when I was ten - that was crazy. I think about it now.  I was so young.
4. Winning the first Street League ever
5. Winning X Games was amazing.
Nyjah is supported by: Element, Diamond Hardware, FKD Bearings, Silver Trucks, Ricta Wheels,  and MOB Griptape.