Spotlight: Balaram Stack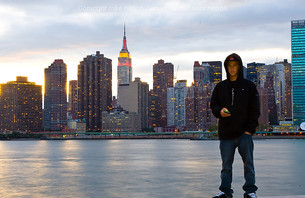 For Balaram Stack if you can surf in New York, you
can surf anywhere. Photo: Quiksilver
19-year-old New York surfer, Balaram Stack, will turn 20 on September 5, which not only signifies the start of a third decade for the Long Beach, NY local but also a fresh chapter in his professional surfing career because it's also the first day of the Quiksilver Pro New York.
Stack will star as the local of record at the Quik Pro, surfing's first $1 million competition and the largest event that's ever happened on the east coast.
For the wild card it's a chance at unprecedented spotlight in his own backyard. - James Sullivan
What are your thoughts on the world's top surfers coming to Long Beach?
I think it's great. It's amazing to see all these guys surfing my home break and seeing what they can do. You don't get to see these guys on these waves normally, so it should be really fun to watch.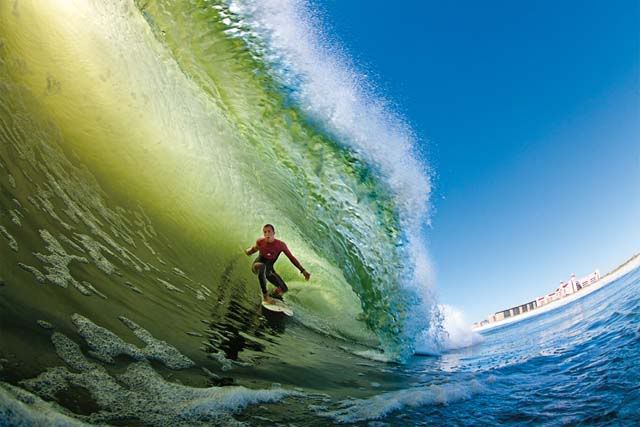 Balaram's perfect Long Beach barrel recipe - juicy south swell + north winds. Photo: Quiksilver
With the Quik Pro there's been a lot of hype - a $1 million prize purse, top talent. Plus all the Irene drama. Moving forward what's the perfect scenario?
There's Hurricane Katia coming up, so it looks promising. I don't want to jinx anything, but if it does what it's supposed to, then the waves will be overhead, draining barrels. If the wind's offshore and there's a big enough south swell, it'll definitely be turning some heads.
If that happens do you think guys on tour will be hitting you up for a place to stay on future swells?
Ha - yeah I know a couple guys already that will, if it's pumping. Though there's only floor space - haha.
Tell us your history with surfing.
I first started when I was 3 on a boogie board. I got a surfboard when I was 7 from my brother who would always take me surfing. I started to hang at UnSound Surf and they hooked me up talking with Quiksilver when I was 13. I rode for Oakley sunglasses before Quik, but my first major sponsor was Quik at 14. Everything kinda started from there. Andy Ryan from Quik kicked it off for me. I got me my first box of clothes and that was the best thing I could ever imagine!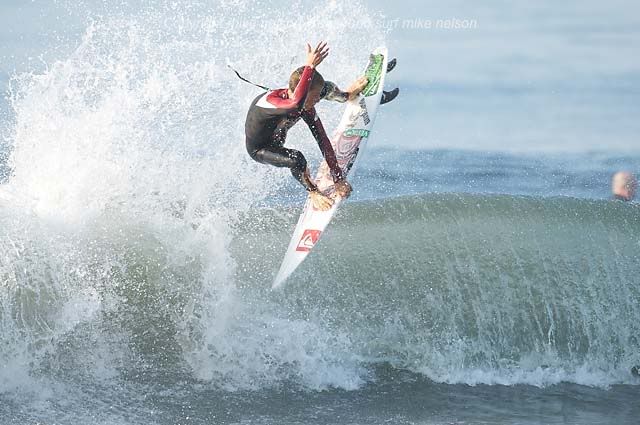 Balaram's New York boost looks like it was shot in Newport. Mike Nelson/Unsound
What was the reaction of your friends and peers when you first got sponsored?
Actually I was a year or two younger than my friends. They were a bit older and surfing better and they were getting hooked up with different sponsors and I was like, 'Yeah I want that.' So then it started to happen for me and I was then in that realm. It was pretty cool when it all came together.
Describe what it takes to be surfer year round in New York. To deal with those winter temperatures.
It takes a bit of determination, you got have all the wetsuit gear: boots, hood, gloves. Then, yeah, you're in the snow and kinda have to deal with the brain freeze just to get a couple barrels. Sometimes you're out there and you're freezing cold and shivering and you're like 'Why am I out here?' But then you get the best barrel of that day or your winter and you're reminded 'Oh yea that's why I'm out here.' So you definitely stay interested and are reminded how fun and how good it is. To me, I like it. It's kind of an adventure. It's so much fun going through snow, putting all that stuff on. It's different than just putting boardies on and going out doing the same thing every day.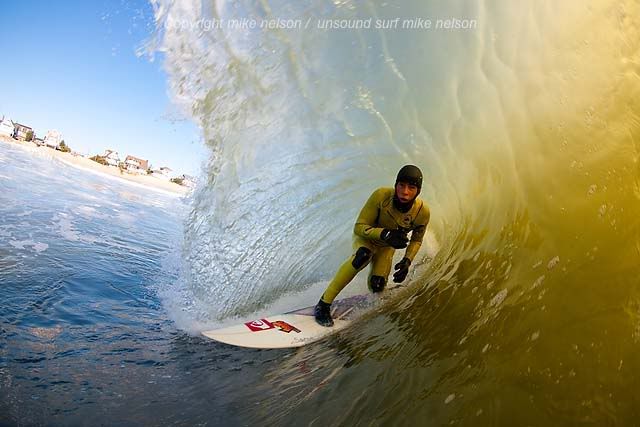 Where it not for the head-to-toe rubber this looks like a summer day. Balaram - staying cozy in the tube. Mike Nelson / Unsound.
Any notable days or moments that you can recount surfing Long Beach?
I don't remember dates, but I do remember one day that was just ridiculously good. I surfed for about ten hours. I came in for a half hour to eat some pizza and went back out. It was a couple feet overhead and light offshore and it was just non-stop barrels. There was just five of us out and we were just trading barrels all day long.
What other spots in New York do you typically surf?
I mean, really I just like surfing Long Beach: Loyalton and LIDO. Of course when LIDO is bombing and really good it's one of my favorite places. It's just perfect A-frames. But it's really swell dependent. If it's too big for the jetties I'll go to LIDO or if it's perfect at the jetties I'll surf there. When it's real big and the wind is right we'll go to some of the beach breaks out east in the Hamptons or head out to Montauk, but that's only on occasion when it gets REALLY good.
How bout Jersey when the west wind blows?
Oh yeah - anytime the west wind blows we head over there because that's offshore in Jersey. It's only like an hour to an hour 1/2 and then if it switches back north we'll just head back to Long Beach. It's pretty easy to go back and forth.
With any luck the Quiksilver Pro New York will benefit from looming Hurricane Katia's generous bounty. Balaram enjoying tropical fruit. Nelson/UnSound.
What are your thoughts on UnSound - you've been with them for awhile?

Yeah - they're a great shop and they've done so much for me and for Long Beach from the Unsound Pro to the surf camps. Mike Nelson and all the photos and exposure that's happened from there. It's just built a lot of surf culture here and it's really cool.
Have you noticed more people in the water in last five years with all the exposure?
Yeah it's definitely changed. Like in the winter time. Wetsuits have gotten so good there's a lot more people who can handle the cold, but it's still not out of control crowded, especially in the winter. You can still pretty much always find a spot by yourself, but there's definitely more people, no doubt about that.
Top 5 destinations outside of New York to travel and surf.
Scotland, Tahiti, Australia, Canada and Hawaii…Obviously Hawaii's got Pipe. As for Australia and Tahiti - they have a bunch of really good waves. It all depends. I like them all!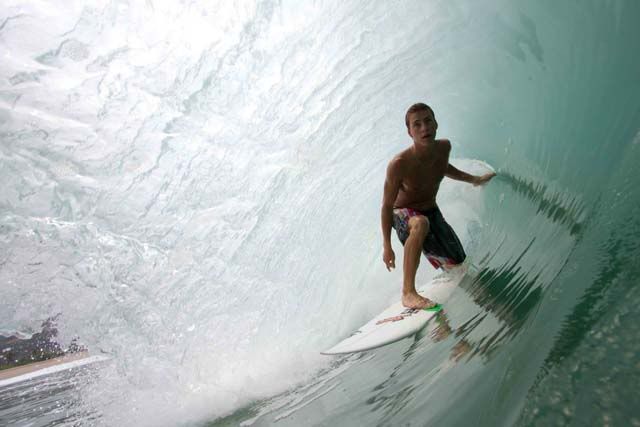 Balaram has been around the block by the way - here getting pitted in some warmer climes. Photo: Quiksilver
What are your hopes competing at the Quik Pro?
I just want to put on a show. Just have fun with it. Not expecting too much....
Rumor is you might have an early heat with Kelly?
Yeah as a wild card I might get matched against Slater. That will be an experience in and of itself. That should be fun.
Who would've thought - Stack and Slater surfing Long Beach!
Seriously! It's a dream right there. And to have a chance to beat him would be over the top!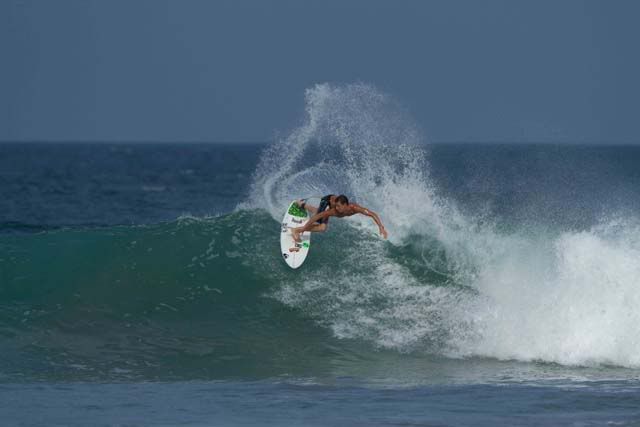 Limber and lanky like his 10x world champion teammate, Stack's agility will be put to the test against Slater. Photo: Quiksilver
Beyond the comp what's your program these day - any trips planned?
I'd like to stay on the east coast and get as many hurricane swells as I can. Just follow them up the coast. But not too much outside of that. Hawaii in November but before that just take it as it comes.
Are you still based in New York mostly now?
I still have homebase in New York. I'll always have the homebase in New York. I only stay here for about three months out of the year, though, just being all over the place. Not really in one place for more than two weeks unless it's Hawaii or Australia or something like that.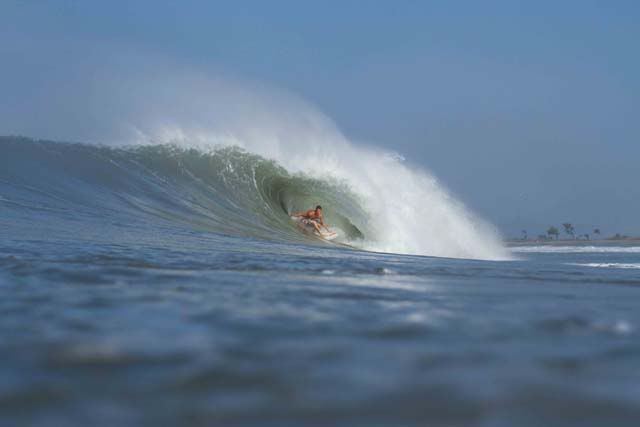 Not much for keeping in touch on the social networks, Balaram prefers to lose himself in far away barrels. Photo: Quiksilver
How do people stay in touch with you through all your travels, do you have a blog or something?
I have Facebook and Twitter and stuff but I try to keep that private for my friends. Well with Twitter it's cool. I don't care who follows me on Twitter but Facebook I have like 8,000 requests but I only allow people that I know. With Twitter anyone call follow me - it's cool.