Skiers Jossi Wells and Colby West are 'Ballin ... Kind of...'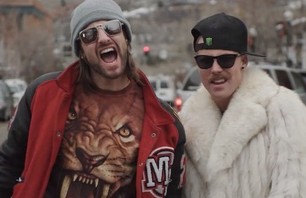 Colby West and Jossi Wells, just a couple of
ballers...kind of.
Pro skier Colby West is known for his outraguous performances in many a ski video.
The "what will Colby do next..." anticipation is an annual treat for freeski fans.
In his most recent effort, West teams up with fellow freeski sensation Jossi Wells to tell the world just how amazing it is to be a pro skier.
In their words,  "Chicks. Cider. Stuff that is cool, almost. Just a couple of Ballers.....Kind Of."