Shaun White Passes on This Year's X Games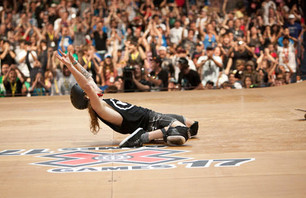 photo: Christian Pondella/ESPN
Shaun White, known for his gravity defying stunts in both skateboarding and snowboarding will not be a part of the X Games this year. White's publicist stated "Shaun has decided to sit out this year's X Games in Los Angeles. This has been a lively year so far; he's now getting back on his skateboard and is excited for summer." White kicked off the year with a huge win in the Superpipe, scoring a perfect 100 at the Winter X Games alon with two other gold's in the Superpipe and Slopestyle in Tignes, France. Last year, he had a very memorable X Games Skateboard Vert Gold win over Pierre Luc-Gagnon.
The news doesn't surprise PLG who told ESPN he "expected him not to skate this year". White has been in New York these last few months and is without a halfpipe to train.
Tune into the Skateboard Vert finals at X Games LA on Saturday, June 30 starting at 9 p.m. on ESPN. Check out the full tune-in schedule here.