Shaun White Arrested in Nashville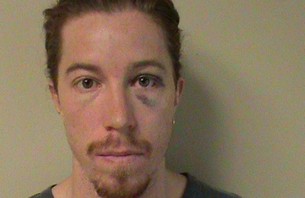 Shaun White's mug shot from Nashville Police Dept.
Shaun White. 26, was arrested in Nashville, TN, charged with vandalism and public intoxication after he allegedly trashed a room at the Vanderbilt Plaza Nashville, broke a hotel phone, pulled fire alarms and ran from staff.
The Metropolitan Nashville Police Department said in a release that officers arrived at the Loews Vanderbilt Hotel, where White was a guest, at 2 a.m. Sunday morning "regarding an intoxicated man, reportedly White, who allegedly pulled a fire alarm at the hotel which caused the evacuation of all guests." An employee also said he saw White destroy a hotel phone, police said.
According to police, White then tried to leave the hotel, first by cab, which was prevented by someone telling the cab driver he was calling the police. After White heard that, he allegedly kicked the person and fled on foot, according to police. Nashville police added that the person he kicked then chased White until White fell backward and struck his head against a fence.
Police said White was transported to a local hospital for treatment and was released Monday afternoon.
Officers who saw White on Sunday said he appeared "extremely intoxicated and smelled strongly of alcohol."
White a 2-time Olympic Gold Medlist has largely avoided scandal in his career. The world's most recognizable action sports athlete, White was ranked #2 most popular athlete by Bloomberg in 2011 behind Peyton Manning.
He's reportedly worth over $20 million and commands $2 million endorsement deals. His top sponsors include Target, Burton, BF Goodrich, Stride, Oakley and his proprietary hardgoods brand Shaun White Supply, Co
In 2010 White moved up the celebrity ladder by signing a deal with Hollywood powerhouse talent agency CAA. He since appeared in cameo movie rolls including aside Justin Timberlake and Mila Kunis in 2011's Friends with Benefits.
White often rubs shoulders with A-listers and is rumored to have a relationship with supermodel Bar Refaeli. The two spent significant time together at the London Olympics.
Beyond the attention of paparazzi, the snowboarding and skateboarding prodigy maybe feeling some pressure due to a reported drop in year over year popularity. Business Insider analyzed the E-Score Celebrity Ranking in March of 2012 and found that White suffered the second largest drop among celebs from the previous year. Down 14% in likability.
Add to that a snowboarding season that saw White skip most competitions (despite a perfect 100 score at Winter X) and a summer skateboarding season that saw him miss the X Games in Los Angeles.
For White, actor and athlete - could music be next? We can only wonder if Shaun's reported rage in Nashville is linked to a failure to land a country music recording deal. Actually, that's a good thing.