Salvation Malibu Must Have's
Heading to the ocean this holiday weekend?  Might I suggest avoiding the sharks and visiting the beautiful beaches of Malibu?  While you're there don't forget to stop in at one of our favorites shops. Salvation Malibu opened its doors early July and thanks to their awesome staff and solid products we really just can't get enough.
Driving home the other day I decided to pull off of PCH and say hello.  Lucky for me, Salvation had just gotten their back-to-school/ Fall items.  Store Manager and all around sweetheart, Liomir Martinez gave me the grand tour of all of their latest and greatest from Nike, Converse, and Hurley.  In case you're freaking out about what to wear to your first classes here the Top Ten Must Haves courtesy of Salvation…
1)      First on the list would definitely have to be the Winchester Blazer.  An adorable cotton jacket with interior sleeve cuffs and front hand pockets.  Essential for those chilly evenings.
2)      What's Fall without a cute flannel?  The Wilson Woven from Hurley is one of my favorite tops.  It comes in four different flannel prints and other solid colors.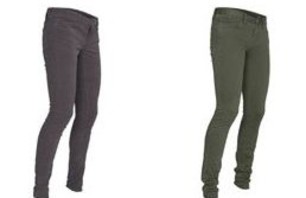 3)      Next on the list is a Must Have for any season, like really I'm obsessed.  The 81 Skinny Girls Denim Leggings are not only great for dressing up and going out but they are also super comfy.
4)      Awe…the Runaway Cami makes it on the list mainly because it can be worn with just about everything.  I always tend to lean toward black but it also comes in a pretty red combo.
5)      "More is More."  Liomir says it best when describing the colorful jewelry they carry. 31Bits creates amazing bracelets and necklaces from rolled paper…and proceeds go to a good cause.  So layer up ladies!
6)      To be honest I am usually hesitant when wearing cargo pants but these Hurley ones are too cute to not have.  Work them with winter boots or even wedges for those lucky enough to still have warm weather.
7)      "Wear shoes that pop."  The team at Salvation recommends the Jack Purcells that come in an assortment of colors.  Can't decide what color to choose? Why not customize…
8)      It wasn't until visiting Salvation that I realized how great the clothing from Converse is.  Like really…the Allen street hoodie…I die.  Not only is the asymmetrical zipper gives it a unique look but it also has an adjustable hood.
9)      Keeping with the Converse line, they also recommend one their oversized tees.  Cute and comfortable.  What more could you really ask for?
10)   And finally, if you're in Malibu then you obviously can't leave without some sunglasses.  Salvation has a good selection of different shapes and styles.