Progression Marks SNB Big Air and Ski Pipe Final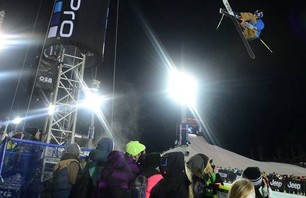 David Wise competes during the men's ski superpipe
final Friday at the Winter X Games at Buttermilk
Mountain in Aspen, Colo. Wise won the event. (Photo:
Aaron Ontiveroz AP)
David Wise, 22, got his wish on Friday night at the Winter X men's ski superpipe final in Aspen -- a victory lap. Last year's defending gold medalist told ESPN ahead of the final that he hoped to secure a winning score before his final run and it turned out to be prophetic.
Taking a commanding lead at the outset, Wise scored a 94.33 on his first run executing a right side 720 mute, a switch double 1080, right side double 1260 mute, left side double cork 1260 mute, and an ally-oop flat spin 540 tail grab.
"It was strategic to do a big run in the qualifiers so I could have that top seed in the final. It's such an advantage to have that, so right form the beginning I was feeling it."
Nipping at his heels was Aspen local, 18-year-old Torin Yater-Wallace who scored 92. on his second run with a rightside double cork 1260 mute, an ally-oop double flatspin 900 japan, a right side 900 double tail, a left side 1080 true tail and a with right side 900 mute.
Feeling the heat from an in-form Yater-Wallace, Wise boosted his amplitude in run number 2, which the judges rewarded with a 95.66. The second highest score in ski superpipe in X Games history.
Yater, who just returned to snow one month ago after recovering from injury, tried to pressure Wise in the 3rd run adding a new trick to his routine - a double flatspin downpipe - and improved his score to 93.00.
"I'm super stoked. I haven't skied in a while so I'm just getting back. I wasn't expecting much out of this event, but I'm pretty competitive on myself so it worked. I feel good about it."
4-time X Games gold medalist Kevin Rolland came into Friday's final hoping to reclaim his spot on the podium after failing to reach it in 2012. Rolland's string of bad luck continued, though, as a flawless run eluded him despite doing all four double cork 1260s.
2-time gold medalist Simon Dumont, 26, rounded out the top three despite competing with two broken wrists and skiing without poles.
"This year is different than most. I worked really hard to recover from that knee surgery over the summer and then too broke my wrists at Dew tour was disappointing. It was different skiing without poles, but we do whatever it takes. I'm stoked to have a medal."
Doing whatever it takes also seemed to be the theme of the night at the men's snowboard big air competition. A dramatic finish highlighted what had been, overall, a highly energetic session that pushed the progression of snowboarding tricks to new heights with all three podium finishers pulling triple cork maneuvers.
Leading with a combined score of 91, Norwegian Stale Sandbech, 19, opted to skip the final run, which left the door open for fellow Norwegian Torstein Horgmo and defending champ, Canadian Mark McMorris.
"I skipped the last round because I landed all the tricks I'd meant to do and didn't have much more. I was so pumped I had to stop. Plus I knew these guys could take it, you know, and they did; it was a crazy night!"
The last two in the drop order, Horgmo, 26, and Morris, 19, were both in a position to overtake Sandbech but would need near flawless efforts to do so.
Horgmo then delivered. Pulling a new frontside variation of the triple cork that had never been done at X Games, which earned him a perfect trick score of 50, catapulting him past Sandbach for a total score of 94.
"I was so hyped to be a part of it. I don' think the level of snowboarding has ever been raised that high in one single final. I thought it was coin toss." Horgmo said
The up in the air moment came after McMorris followed Horgmo with a new trick of his own - a switch backside triple cork 1440 - landed clean to the raucous reaction of the crowd. At first it seemed he had enough for the win but his combined score of 94 only matched Torstein, who ended up with the gold due to the higher single trick score.
"I'm speechless." McMorris exclaimed. "Torstein did two variations of the triple cork 1440s. Stale learned a triple cork 1440 in practice then stomped it like it was nothing. Last year that was unheard of. It just keeps going; it's getting crazier and crazier."