Pro File: Chris "Gunny" Gunnarson of SPT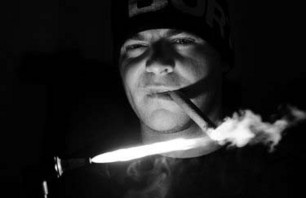 Gunny is all business.Snow Park Technologies is the world's leading terrain park design firm. Led by President, Chris "Gunny" Gunnarson, SPT has grown to be a global business, building parks for Winter X Games, the Dew Tour, and the US Open among others as far away as Japan and Europe. Gunny just returned to Tahoe after spending 29 days in Aspen overseeing the build at Winter X 14. Between catching his breath and taking his daughter skiing, Gunny took a few minutes to give us the run down on everything SPT has been up to.

- James Sullivan



PRO File: Chris "Gunny" Gunnarson

Chris, so you just got back from X Games.
Yes 29 days straight - it was long but fun.

What's the difference between building a slopestyle course vs. a halfpipe?
The design and construction of a halfpipe is very fixed; you already have predetermined angles and measurements whereas slopestyle is much more fluid and creative based on the run you're given to work with and the amount of snow you have.
Grooming the X Games pipe.Although construction of a halfpipe might be a creative process from one to the next the outcome is always the same whereas slopestyle is much more dynamic and creative.

I would think slopestyle would be more interesting with more options?
Yeah, a good slopestyle course pulls elements out of a normal terrain park and consolidates it onto a specific section of a run at the resort, but built in such a way that best showcases the highest level athletes in a truly competitive, judged format.

So you have to adapt each time you build a new course?
Right. At Dew Tour, for example, there are multiple stops, and each spot has a different type of run, and we have to factor in a bunch of logistic and operational variables: snow, pitch, trail contour, width, available equipment, etc.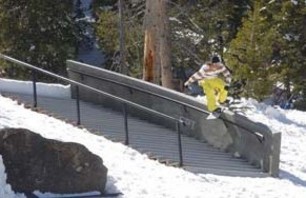 Snow Summit - early days.And then through a creative process come up with what we think is going to be a compelling course so we can help showcase these high level athletes the best we possibly can.

How long have you been building parks?
I started at Snow Summit, CA in 1992, building terrain parks, then started SPT and have just been traveling the whole world ever since doing this and making a real business out of it.

Tell us more about the "business" side?
Well building parks of course is a really fun, cool and creative process and I get to do something I love, but at the end of the day it's really, truly a business. I mean resorts aren't doing this for charity work, it's a viable business now. Ask Shaun White, he loves snowboarding but let's face it he makes $10 million a year - that's a business.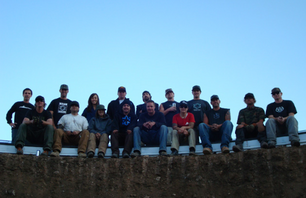 SPT CrewSo it's just everything to do with the fun part, the safety part, the liability part, and the marketing part, all integrated together. For example our SPT parks program at resorts is a lot more involved than most people would actually think. It's not just pushing some snow around and creating a terrain park.

How is the company structured?
SPT has 10 full time employees and another 12-15 independent contractors spread around the country working at different resorts and we have three lines of business:

SPT Parks - which is a year round program where we work with various different resorts of which there are 11 that are considered SPT parks. You might compare it to a Jack Nicholas designed golf course; it's a branded program.

Then there's SPT Projects - that would be things like X Games, Dew Tour, US Open, European X Games that are finite projects that also include a lot of commercial and film shoots.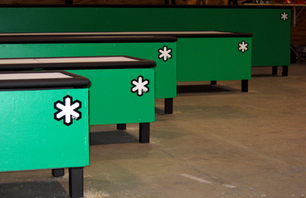 Smooth boxes from SPT products.
Lastly is SPT Products - we have a whole fabrication warehouse at our HQ in Truckee, CA where we design and build, rails and boxes as well as a line tools and products that are pretty specific to terrain park and event use.

How does someone land a gig at SPT?
First get a job at your local resort and show a hard work ethic, then get a job at a SPT park resort and get noticed for your hard work and skills. And then the next evolution will hopefully be learning to run a snowcat and then if you do well with that you may get called upon to come on the road to work with us.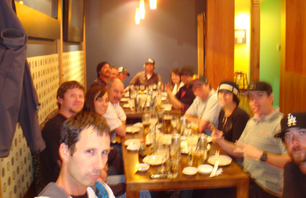 Being on the road isn't bad when Gunny picks up the
tab!
Does SPT have any formal apprenticeship?
Not formalized but it definitely starts with our SPT parks. We have 11 of them regionally located all around the US and because we are constantly visiting them and communicating with them, we are able to see the standouts. Like, wow this kid in New Hampshire or this kid in Big Bear has got the passion and the skill set, let's keep our eye on him, and from there we may try to elevate that person to being on the road.

How is being on the road?
Being on the road is a lot different from being in the comfort zone of your own resort, because you deal with resort personnel who are real apprehensive about us being there as these hired guns that show up. Plus you're in unfamiliar surroundings and you're living out of a bag for potentially weeks on end. So it's a whole different ballgame and I think it's the next level of doing a great job at your home resort.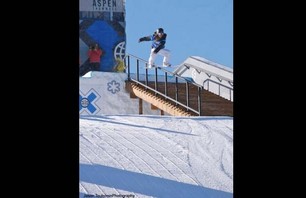 Jamie Anderson gathering comments at X.

Who are the best builders that do a great job and inspire you?
I'm really happy and proud to say is that SPT, more than the business, is a collection of who I feel are the best in the business: whether it's Frank Wells or Brad Hoerter on the pipe side; they're the best there are. Or Elliot Cone and Aaron Dettling and Chris Casteneda are the best slopestyle guys in the world - I'd put them right at the top. And the list keeps going and going - Mike Binnell probably is the most all around park, pipe, snow cat operator/builder whatever you wanna call him, he was my original partner in all this. That is the highest level of guys that are out there.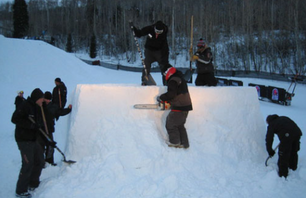 All hands on deck when features need some love.

What's the best part of your job?
The most rewarding part is the athlete feedback. Everyone on our crew are just huge fans, superfans if you will, of these athletes and these sports, and to know that we're able to make a living creating courses, and to then sit back and watch these guys go off on them and have them come up and give you positive feedback is phenomenal.

What if they don't like what you build?
The flipside of course is when the feedback is not so positive and you've let your favorite snowboarder or skier down and they're not afraid to tell us either. That's ok though because we want that feedback and we want it to be as good as possible.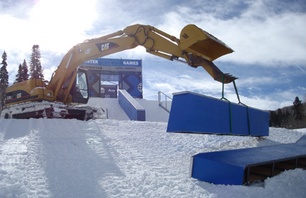 Sometimes the finishing touches need more muscle.

What's the toughest part of the job?
I'll tell you something that's tough. We usually have a defined window of time, maybe it's 10 days to build a slopestyle course. If there's not enough snow or the weather conditions get rough or the snowcats are breaking or any number of factors, that can cause a normal build to become a really, really, long, and ugly, 20-hour-a-day for 10-days-straight build. Add to that you've put your heart and soul and blood, sweat and tears into trying to make it as good as it can possibly be, even up against some really tough circumstances, then it always sucks on that first day to hear that stuff is not as good as it could be. But I will say we do a pretty good job of trying to fix things when they're not exactly perfect right out of the gate. After all, we set the bar pretty high for that level of competition.

Do you get to ride the features to test them?
Well I try to! Sometimes we're working right up to the morning of the first day of practice and we haven't even had a chance to test it because any number of things that went wrong or were causing that construction process to run long, but between all of our crew we usually get the testing process done prior to any athletes going on there. And then we have some specific people who work with us that handle athletes who actually wanna be the first guys out there to test it and give us the best feedback.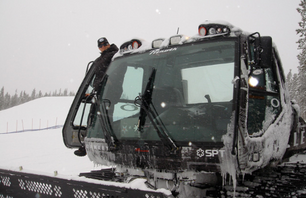 Gunny has an "ice truck" of his own.
Rumor has it that SPT might have a reality TV show in the works?
Well it's still in preliminary talks but we have been in negotiations with a few different networks like Discovery and A&E on a type of show that follows us around the world to all the different projects we do with all the guys on our crew.

Like an Ice Road Truckers kind of thing?
Well I can tell you it's a whole lot cooler - with young guys in the snow, operating heavy machinery, building courses for high-level athletes in exotic locations around the world as opposed to some fat trucker, trying to create drama driving down an icy road. We are in a different place every week: Aspen, Vermont, Japan, Europe the French Alps. It's pretty cool.

For someone who spends all their time building parks and pipes do you ever get a chance to ride pow?
Haha - I love going into a freshly groomed park and pipe, but for me, at 37, with two kids, I'm all about riding pow at this point. Park and pipe is a young man's game, but it's certainly fun to watch and be apart of!

All pics SnowParkTech.com