Olympic Hurdlers Got Nothin' on Broc Raiford!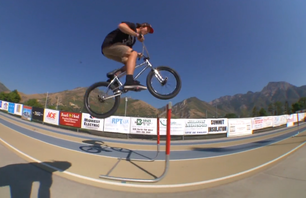 Broc Raiford clears a hurdle like an Olympic hurdler
in his Bourbon Street Bar promo
Broc Raiford at the ripe old age of 18, sure has some a back pocket full of tricks. After touring the UK on his Tea and Biscuits tour, the last thing he wanted to do was take a break. Instead, he hit up SLC and Pocatello, Idaho in search for some prime riding spots. The end result was a pretty rad edit for his Bourbon Street Bar promo and plenty of Crankarm grinds!