Oakley Signs Skier Alex Schlopy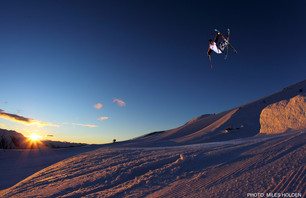 Alex Schlopy now on with Oakley
Alex Schlopy joins team Oakley...here's the release:
"Oakley is proud to welcome Alex Schlopy onto the Men s Ski Team. The collaboration marries the next generation of Oakley eyewear and apparel with an ambassador for next generation skiers.
For me, joining with Oakley was a no-brainer, says Schlopy. I've always looked at Oakley as being top notch with top of the line equipment, top of the line athletes and products that cover all my hobbies. I'm super excited to join the "O" family!
Oakley s 2010 line of performance winter apparel provides young athletes like Alex with the best of science and style whether they re skiing pow in the backcountry or chasing down medals on a slopestyle course. Similarly, Oakley s patented High Definition Optics (HDO ) creates superior clarity, unrivaled impact protection and 100% UV filtering to keep them performing at the top of their game.
Born and raised in Park City, Utah Alex began skiing at the age of two with expert guidance from mother Holly Flanders, two-time U.S. Olympian and three-time World Cup Downhill Champion, along side father Todd Schlopy, NFL place kicker turned Hollywood motion picture cameraman.
Alex found his way onto the big screen at the ripe age of 14 scoring a jump segment in TGR s Lost and Found. Alex has also been featured in TGR s RE: Session and Rage Films Pretty Good. He turned pro as recently as last season after a slew of breakout performances culminating in a first place finish at the 2010 Dumont Cup in which he overtook seasoned professionals like Joss Christensen, Tom Wallisch and Gus Kenworthy among others for the win.
I m very excited to welcome Alex to the Oakley Ski Team, says Greg Strokes, Oakley Ski Sports Marketing Manager. From watching him continue to progress the sport to listening to him talk about his girl Miley [Cyrus], it s going to be a fun season and he s going to make a great addition to the team!