Kyle Baldock: Future of Ramp Riding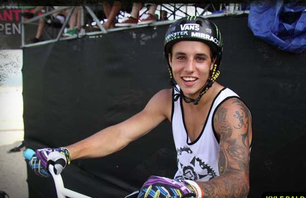 Kyle Baldock, the future of ramp riding ladies and
gents!
Few work the ramp like Aussie Kyle Baldock can. He had a whirlwind of a year overseas with his Dew Tour podium finishes in Dirt and Park. And he did it with a smile on his face despite having to deal with the passing of his younger brother only two weeks before having to move to the States for half a year. He made sure to continue his passion and talents as a rider and used his brother and family as an inspiration to make it big here.
Here is Kyle's entry in The Hunt BMX competition filmed in Greenville, North Carolina July 2011.
iframe src="http://player.vimeo.com/video/40639811" width="600" height="338" frameborder="0" webkitAllowFullScreen mozallowfullscreen allowFullScreen>