Kilian Martin's 'Black Canvas' Short Film Rocks Our Socks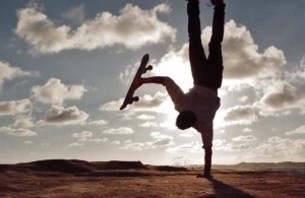 Killian Martin's short skate film 'Black Canvas' is
incredible, take a look!
Kilian Martin returns with another short skate film titled "Black Canvas". If you haven't seen one of Kilian's videos before, prepare to be dazzled, if you already have, this one has a look and feel of its own that deserves a whole lotta recognition. Kilian takes freestyle/street skating/flatland and moves it across various concrete pavements and obstacles with finesse and technical skill. Oh, and the edit is set to one of Bach's greatest hits. Yeah brah, enjoy!