Gretchen Bleiler is 'Strong and Badass' in Body Issue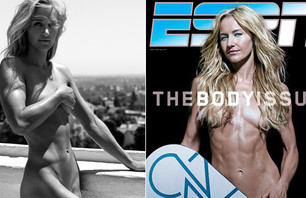 Holy sh*t! Gretchen is ripped! Photo: Francesco
Carrozzini/ESPN The Magazine
Gretchen Bleiler's been featured in Maxim and FHM as well as appearing on ESPN Magazine covers. She made BNQT's list of THE MOST DESIRABLE WOMEN IN ACTION SPORTS. She holds it down on the halfpipe, has a bunch of hardware from contests like X Games, US Open and the Olympics and she looks damn good while doing it.
For the third annual ESPN body issue, Bleiler was among three action sports athletes in the all nude section - that will hit newsstands this Friday. "I wanted that badass vibe. I didn't want soft and cute and sexy," she says in an interview with USA Today. Alright Gretchen, whatever vibe you want we're be fine with.
Besides Bleiler, action sports stars Louie Vito and Stephanie Gilmore appear along with more than a dozen other athletes posing nude (with private parts strategically covered) in the "Bodies We Want" section.
I guess I picked the wrong week to quit the gym.