Great White Shark Spotted in Manhattan Beach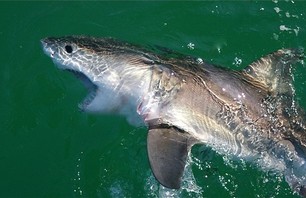 A great white shark swims in vicinity of the
Manhattan Beach pier on September 4th. Photo: Eric
Martin
A large juvenile great white shark estimated to be 9 feet in length was hooked and subsequently released on the Manhattan Beach Pier Tuesday.
The angler was fishing for bat rays but cut the line once the shark appeared at the surface upon realizing the animals was great white, a state-protected species.
Eric Martin, director of the Roundhouse Marine Studies Lab and Aquarium at the end of the pier, said the angler willingly cut the line to set the shark free.
Of Tuesday's incident Martin said, via email to PeteThomasOutdoors.com - "He actually kept it on the line long enough that I was able to click off a few photos. Then I told him I am cutting the line [and] he said go ahead.
Martin added: "I have to say one thing that was funny: Seconds after the shark was set free a swimmer swam right in front of the shark and the shark went under the swimmer and the swimmer had no idea what just swam under him."
Scary news for surfers in southern California, which hasn't seen a fatal shark attack since a bodyboarder was killed in October of 2012.