Flatland Redux--Kilian Martin x Alfredo Urbon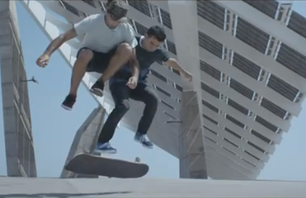 What's better than watching Kilian Martin
skateboarding? Kilian Martin and Alfredo Urbon...on
the same board.
Flatland extraordinare of today, Kilian Martin has skills. That's a fact. And you're probably heard of Alfredo Urbon, another worldclass flatland skateboarder. Now take Kilian and Alfredo's skills and put them on one skateboard for conceptually trippy but incredibly awesome skate video. Just two dudes cruising together in a skate film that will change the way you think about longboards and skating itself.