Etnies and Ryan Sheckler Plant Trees in Costa Rica
Etnies team - Kyle Leeper (skate), CJ Kanuha (surf),
Benji Weatherly (surf), Pierre Andre (Etnies CEO),
Chris Del Moro (surf), Ryan Sheckler (skate) and Don
Brown (Etnies VP of Marketing)
Chris, Ryan, Pierre Andre, and CJ with Maleku tribal
members.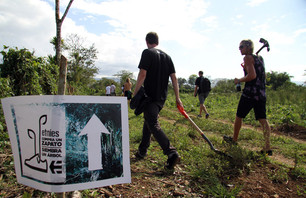 35,000 trees will be planted in the mountains of
Costa Rica.
CJ and Ryan planting their first of 35,000 trees in
Costa Rica.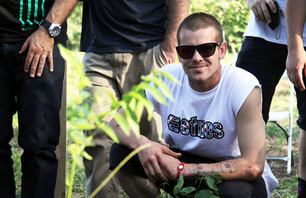 Ryan Sheckler - saving the world one tree at a time.
On Friday March 18 pro skateboarder Ryan Sheckler led a tree planting ceremony in Costa Rica with fellow athletes CJ Kanuha, Benji Weatherly and Chris Del Moro among others to kick off a reforestation program that aims to plant 35,000 trees in 2011.

The initiative, dubbed 'Buy a Shoe, Plant a Tree', is the brainchild of Pierre Andre Senizergues, owner and CEO of skateboard shoe manufacturer Etnies and was done in conjunction with the La Reserva Foundation and the local Maleku indigenous tribe.
For every pair of Eco Jameson model shoe purchased, Etnies will plant a tree.

"Our goal is to plant 35,000 trees this year and create a forest 10Km long along the river," says Senizergues. "Allowing the Maleku tribe to profit by having enhanced bio-diversity, cleaner water and more canopy cover on which they rely."
DAY 1 GALLERY - ETNIES "BUY A SHOE, PLANT A TREE" KICKOFF
DAY 2 GALLERY - ETNIES "BUY A SHOE, PLANT A TREE" KICKOFF

Increasingly environmental sustainability is a priority for many action sports brands.

"We need clear air to skate, clean water to surf and clean snow to ride," says Bob Carlson co-founder of the Arbor Collective, a Venice, California-based company that uses sustainable bamboo in its skateboard, snowboard and apparel products.

Patagonia, founded by famed mountaineer Yvon Chouinard, also has a long commitment to pro-environmental practices. Since 1985, the brand has contributed 1% of net annual sales to environmental projects valued at over $40 million.

Skeptics might write-off such tactics as simple PR or non-effectual cause marketing, but for athletes like Sheckler, there is real value in taking steps to improve the planet.

"When (Etnies) said 'Buy a Shoe, Plant a Tree' it really hit me; it's not just for Costa Rica, we're doing this for the world," he said. "I know it doesn't seem like a lot, there are tons of trees in the world, but 35,000 new trees will definitely make a difference and it's just cool to be apart of."

For more info on brands activating environmental sustainable practices check out the Action Sports Environmental Coalition.
Stay tuned for more on Etnies "Buy a Shoe, Plant a Tree" kickoff here on BNQT.com, but in the mean time watch the promo video here.