Dyrdek's Street League Skateboarding Returns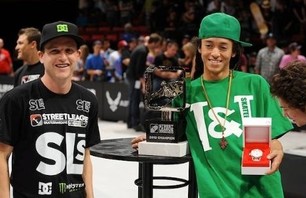 Rob Dyrdek with previous tour champ - Nyjah Huston
The third season of Rob Dyrdek's venerable professional skateboarding tour - Street League Skateboarding - kicked off yesterday in Kansas City, MO with the finals set to broadcast LIVE on ESPN 2 tonight at 9pm EST. Founded in 2010 Street League redefined skateboarding events by way of a drama-filled instant scoring system and a seven-figure prize purse.
Dyrdek created Street League because he felt skateboarding in general - dominated by skaters riding rails, ledges and other urban structures - was not represented in the existing event landscape, which had traditionally emphasized ramps and halfpipes.
Instead Dyrdek sought to construct custom concrete courses in an arena setting to better mimic outdoor plazas and urban features skateboarders frequent while providing an engaging spectator experience.
After each tour stop the features are then donated to the host city. This week in Kansas City Dyrdek is christening a new skatepark as part his "Safe Spot Skate Spot" foundation utilizing the obstacles from the contest.
"Last year we took all obstacles from the event and donated them to the city. Now we can come back and open that skate spot and all those kids can skate the same features they saw the world's best compete on. It's about the sustainability of skateboarding and giving back to make sure there are places for kids to skate in the future to create the next Street League stars."
Feeding new talent into the series is part of the event's progression in 2012. This spring it held a qualifying "Selection" process in the US and Europe, providing an opportunity for top amateurs to earn a spot on the circuit to compete against the existing field of elite pros.
"We have six new amazing guys," says founder Dyrdek. "This makes it the deepest field in history of skateboarding. I don't think I've ever been more excited about anything in my entire life more than this contest this weekend."
That's saying a lot from a professional skateboarder, celebrity, entrepreneur and philanthropist who's built fame from his MTV show Rob Dyrdek's Fantasy Factory and built a business empire that includes apparel, hardgoods and accessory brands. Of all his projects Street League comes first.
"There's nothing I enjoy more. I love everything I do but most of that stuff is short term, whereas Street League is more the 50 year plan."
For more visit StreetLeague.com