Don't Take a Bet With These Kids in a Nose-Wheelie Contest!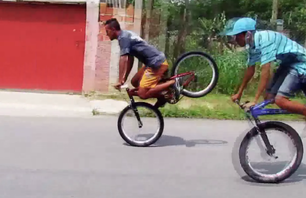 Don't even try to take a bet with these guys in a
nose wheelie contest!
Darn kids these days are really stepping up their game! Lukao and Michael from Brazil have mastered the skill of nose-wheelies on some generic looking mountain bikes without breaking a sweat. It's pretty incredible how comfortable they look and how steady they are...don't even think about taking a bet with them in a nose-wheelie contest unless you want to pay up!