Dew Tour Winners Take Center Stage in San Fran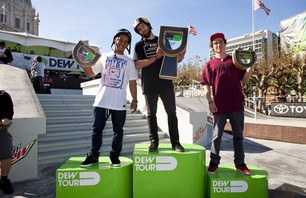 BMX Street Finals - Garrett Reynolds, Chad Kerley,
Bruno Hoffman.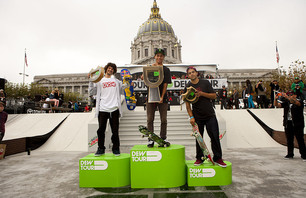 Skate street finals - Huston, Pudwill,
The third day of the Toyota City Championships was action packed withSkate Street, a special appearance by Lil Wayne, the debut of BMX Street, and BMX Dirt, ending with the exciting GoDaddy.com BMX Dirt Best Trick contest. Nyjah Huston gained his first Skate Street Dew Cup, dominating the competition with style. He made full use of the Hubba Hideout replica, landing a kickflip back tailslide and hardflip 5-0. Torey Pudwill and Paul Rodriguez filled out the podium in second and third, respectively, to complete a California native top three in the Golden State.
Lil Wayne was on hand to cheer on his friends and enjoy the great skating. His special appearance featured a three-song performance on the street course in between Final heats, turning the coursemade up of iconic San Francisco skate spots into a concert venue.
"I'm really stoked on the whole contest," said Huston, following his win. "It's the first Dew Tour I've ever won in my whole life, so I'm super stoked to be able to come out. The course was sick too. I think the whole idea of replicating spots in San Francisco, a city with so much skateboarding history, is a great idea."
BMX riders took to the street course as the sun came out for the BMX Street Finals. Garrett Reynolds won the inaugural BMX Street Dew Cup with a score of 92.13. With only six points dividing the first and last place finishers, Reynolds held on to the win by landing a huge 360 bar-to-bar down the nine stair, a nollie 180 barspin and a rail ride to tailwhip out. Chad Kerley and Bruno Hoffmann finished in a close second and third.
Reynolds took the win humbly, enjoying a weekend of riding the street course. "I think the idea behind the course was really great with all the famous San Fran spots," he said following the contest. "It's always awesome to see everyone's approach because a lot of the street riders have unique ideas. I have a lot of fun being out there with people I look up to, so it's just cool to be in the mix."
San Jose native Ryan Nyquist took advantage of the hometown setting to come out on top at the BMX Dirt Finals. Crowds were held in suspense until Nyquist's third run put him in the lead. He landed a double barspin flip, 720 barspin and 450 barspin to beat out second placefinisher TJ Ellis and third place finisher Colton Satterfield.
"I knew I needed to step it up completely and that's what I did," said Nyquist. " It feels really good to win - amazing is more like it. It's so good to be in northern California with so many friends and family around. It's just awesome."
Following the Dirt Finals, seven riders competed in the GoDaddy.com BMX Dirt Best Trick contest. Kyle Baldock walked away with the win, landing a cliffhanger front flip.
The Toyota City Championships continue tomorrow with the debut of Skate and BMX Streetstyle on Harrison St.
Dew Tour Toyota City Championships
San Francisco, Calif.
October 18-21, 2012
Skate Street Final Results
1.Nyjah Huston, Davis, Calif., 93.75. 2. Torey Pudwill, Simi Valley, Calif., 89.50. 3. Paul Rodriguez, Tarzana, Calif., 86.75. 4. Milton Martinez, Argentina, 85.00. 5. Felipe Gustavo, Brazil, 83.25.
BMX Street Final Results
1.Garrett Reynolds, Toms River, NJ, 92.13. 2. Chad Kerley, San Diego, Calif., 91.25. 3. Bruno Hoffmann, Germany, 90.75. 4. Dennis Enarson, La Mesa, Calif., 88.88. 5. Sean Sexton, Austin, Tex., 88.13. 6. Ty Morrow, Greenville, NC, 88.00. 7. Dakota Roche, Huntington Beach, Calif., 87.00. 8. Steven Churchill, Bristol, Conn., 86.00.
BMX Dirt Final Results
1. Ryan Nyquist, San Jose, Calif., 90.87. 2. TJ Ellis, Moreno Valley, Calif., 89.19. 3. Colton Satterfield, Salt Lake City, Utah, 89.13. 4. Dennis Enarson, La Mesa, Calif., 88.56. 5. Kyle Baldock, Australia, 88.31. 6. Luke Parslow, Australia, 87.56. 7. Kevin Peraza, Tucson, Ariz., 87.12. 8. James Foster, Beaumont, Calif., 86.75.