Day Two Highlights for Billabong Pipe Masters Pro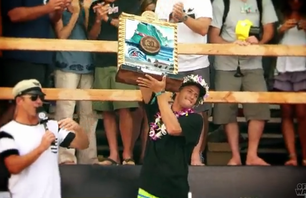 Sebastian Seabass Zietz gets some major hardware for
winning the Vans Triple Crown.
Here are some sweet highlights from Day 2 of the Billabong Pipe Masters Pro going on at Banzai Pipeline in memory of Andy Irons. Plenty of action went down at the last WCT event in 2012.
According to the point system, three surfers are technically still in contention for the 2012 ASP World Title: Joel Parkinson (AUS), 31, Kelly Slater (USA), 40, and Mick Fanning (AUS), 31. And since the Billabong Pipe Masters were set up with an altered format, all three of these guys were automatically seeded into Round 3 and can't finish any worse that 13th.