DQM x Cliche Skatedeck Corkscrew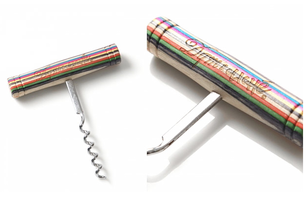 DQM x Cliche Skatedeck Corkscrew for the more wine
loving skateboard crowds...
For those of more refined skateboarders who love a little wine here and there can totally appreciate this sweet little skatedeck corkscrew from DQM x Cliche. The New York skate boutique and French board brand thought, why the hell not? There have to be a bunch of wine loving skateboarders out there who are tired of scrambling around for a corkscrew when all they have is an old beer bottle opener from some convenience store. The colorful pieces of wood and high quality  materials mean this little guy could totally last you a while too. Available at the DQM online store here for $15.
Credit: The Cool Hunting