Brooke Crain Taking the Pain Train To a Different Level at the Olympics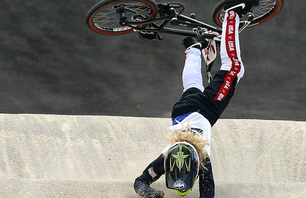 Best BMX trick ever? You decide!
Action sports made huge leaps and bounds when it made its debut in the 2008 Beijing Olympics. And while it is still in its infancy, we wouldn't be surprised if this "trick" captured below will be one of our most memorable moments in Olympic BMX history. Check out U.S.'s Brooke Crain taking the pain train to the chest and face. We heard she is doing okay and as bad as it sounds, we have a feeling this will be on replay for a while...
sweet bmx trick from Kmarko on Vimeo.