Bethany Hamilton Gives 'The Biggest Loser' Contestants Surfing Lessons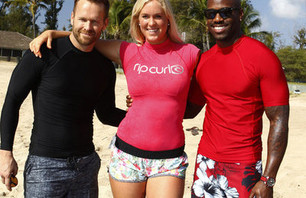 Bethany Hamilton gave the Biggest Loser crew some
pointers about hitting the waves.Bethany Hamilton stopped by to pay a visit to the cast of the NBC reality show The Biggest Loser this week to give the contestants surfing lessons. Earlier this season, the cast was whisked away to Hawaii, so they probably weren't expecting another surprise like lessons from a pro surfer.
""I surprised them on the beach, they were super excited and maybe a little nervous, but I think they were just so stoked to be there," Hamilton said in an interview with People magazine.
Since the release of her biopic SoulSurfer last year, Hamilton is a bonafide star. Despite her red carpet appearances and photoshoots, she hasn't taken her eye off the prize."I'm surfing just about every day," she says. "I guess it's just about determination to continue doing what I love. I love being active and feeling healthy. Your days are so much better when you get out and exercise," she said.
The episode airs March 20th at 8PM. For more information, go here.
RELATED:
ALANNA AND BETHANY REMIND US WHY WE LOVE SURFING