Basketball Players Can't Party Like Skateboarders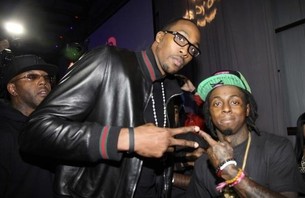 Miami Heat star and rapper/skateboarder Lil Wayne.
In a story reported by the NY Post today, Miami Heat players were out to the wee hours the evening before their 103-88 drubbing by the NY Knicks last Wednesday.
The article states that "sources spotted the Magic's Glen "Big Baby" Davis and Jason Richardson partying until the early hours. They started out dining in the private wine room of Philippe New York. Then the pair joined Dwight Howard — who got a shout-out from the DJ on the loudspeaker, spies said — Chris Duhon and Quentin Richardson at Greenhouse during R&B singer Dawn Richard's EP release party. The players were seen ordering bottles of Champagne and raged in the club until around 3 a.m. The next day, sources told us, they looked "horrible" during their pregame shoot-around, missing most of their practice shots. They later looked slow-footed during the game."
The best part is this image of Heat star Dwight Howard hanging with hip-hop icon and bonafide skateboard enthusiast Lil Wayne aka "Weezy."
Apparently ballers can't party and perform as well as their shorter skateboarding brethren. Then again, remember the story of Weezy getting hurt after skateboarding drunk?