BNQT Daily Five - 5 Action Sports Videos of The Day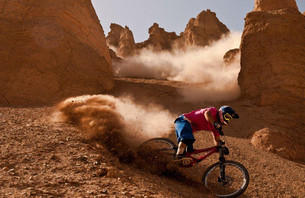 MTB video of the day 'Where the Trail Ends' trailer
Red Bull's long awaited full length trailer "Where the Trail Ends" follows a three-year quest of top freeriders scouting wild, remote terrain around the world and finding big, exposed drops in huge landscapes, plenty of crashes. Stevie Churchill and Dylan Stark headed over to our local stomping grounds and put together this edit where they do near-impossible tricks with the greatest of ease. The second in the series from the Kustom Airstrike series. How high is John John going?! Baker took an afternoon off from filming for Bake and Destroy to rip shit up at a private LA skate facility. Ryan Sipes gives us the lowdown into what it's like to take on the challenge of MX338 in Southwick.
MTB VIDEO
'WHERE THE TRAIL ENDS' TRAILER [REDBULL]
SURF VIDEO
KUSTOM AIRSTRIKE EP.2 [KUSTOM FOOTWEAR]
SKATE VIDEO
SKATEPARK ROUND UP: BAKER [THRASHER MAG]
[removed][removed]
Loading the player ...
BMX VIDEO
STEVIE CHURCHILL AND DYLAN STARK CALLING THE SHOTS [NETWORK A]
MOTO VIDEO
RYAN SIPES AT SOUTHWICK [GUY B/RYAN SIPES]
One Lap: Ryan Sipes/Southwick - More Motocross Videos