BNQT Daily 5 - Five Action Sports Videos of the Day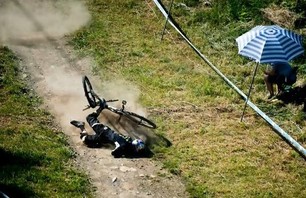 Mountain Biker Gee Atherton gets worked at Mont Sainte Anne and takes us through it step by step - ouch!
Skateboarding phoneme Mitchie Brusco tells us his top five for Go Skateboarding Day with Alli and GoPro scores another incredible barrel - go figure.
Arbor Snowboards puts together an awesome edit form Snowboarder Superpark and Subrosa tours New England and runs train on a park in Providence, Rhode Island.
Desert Point Violin View from Jarred Hancox on Vimeo.
Gee Atherton's Horrible Crash at Mont Sainte Anne 2012 - More Mountain Bike Videos