BNQT DAILY FIVE - 5 ACTION SPORTS VIDEOS OF THE DAY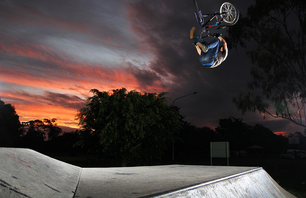 Credit: waynecantphotography.com
Logan Martin's 720 to footjam gave us some permanent goosebumps. DAMN!!! Voleurz' eighth feature-length film showcases the antics and exploits of the Voleurz family, and features snowboarders and skiers forced against each other in an all out bloodbath. Who will take the throne? Bonfire and Salomon Snowboards present Louis-Felix Paradis. This video features footage that earned him the 2012 X Games Real Snow gold medal, some of his time spent on Team Vacation, and some footage that until now, no one has seen. Bake and Destroy will help you ease into that Black Friday shopping realllll nice.  Just to get everyone pumped up on the Chad Reed Platinum, here's a behind the scenes look into our last Platinum featuring Nico Leocata in South America.
BMX VIDEO
LOGAN MARTIN - 720 TO FOOTJAM [DIMA91GORDEY]
SKI VIDEO
VOLEURZ "KILL YOUR BOREDOM" FULL VIDEO [VOLEURZ]
Kill Your Boredom from Voleurz on Vimeo.



SKATE VIDEO
BAKE AND DESTROY [THRASHER MAGAZINE]
Loading the player ...



SNOW VIDEO
LOUIF PARDIS [BONFIRE SNOWBOARDING]
MOTO VIDEO
LEOCATA PLATINUM: BEHIND THE SCENES [VURB MOTO]