AUSSIE HURDLER MICHELLE JENNEKE DANCES FOR JOY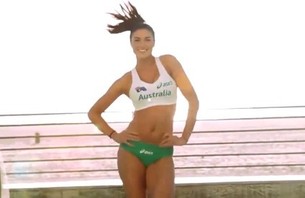 Aussie Hurdler Michelle Jenneke dancing in the
sunlight in Venice, CA.
BNQT loves TheChive.com - we're typically featured on their BEST LINKS ON THE INTERNET round-up. Today they posted some viral gold that we have to share. Remember the Olympic runner from Australia, Michelle Jenneke, the one who went viral after her bee-bopping warm up dance?
Well the boys from The Chive somehow convinced the Aussie starlet to join them in a little fun and games at their office location in Venice, CA. A California dream, you might say. The results are most definitely surreal.
Enjoy.