ASP Releases 2012 World Tour Series Schedule With A Tweak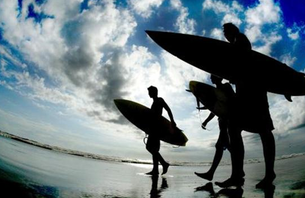 The 2012 ASP World Tour Series schedule looks
slightly different than this years...find out why
The ASP have had their hands full in the past few weeks but still managed to release the 2012 schedule of the World Tour Series earlier today. If you take a look at the full schedule of the ASP Title World Series events list, you might be surprised to find that the Rip Curl Pro Search is missing but will be back in 2013. The Rip Curl execs have decided to take a year off to nurture the event and making sure The Search is on another level for 2013. This comes after the news of the ASP's miscalculation of Kelly Slater's point score and awarded him his 11th World Title prematurely.
Rip Curl's Neil Ridgway comments, "Throughout the history of the Rip Curl Pro Search we have had everything from ASP world titles to underworld rip offs, terrorist alerts to perfect tubes, great personal and professional difficulty and epic celebration parties. This event more than any other combines the discipline of professional sport with the traveling lifestyle and freedom surfers love. It needs to be nurtured so it grows better than ever. A year tending to it in planning is the right way to develop it."
For the 2012 ASP Women's World Title Series, seven of the core events will be returning and more events will be added after the start of the season in February.
ASP World Title Series
Quiksilver Pro Gold Coast – Australia (February 25 – March 7, 2012)
Rip Curl Pro Bells Beach – Australia (April 3 – 14, 2012)
Billabong Rio Pro – Brazil (May 9 – 20, 2012)
Volcom Pro Fiji – Fiji (June 3 – 16, 2012)
Billabong Pro Jeffreys Bay – South Africa (July 11 – 22, 2012)
Billabong Pro Teahupoo – Tahiti (August 16 – 27, 2012)
Quiksilver Pro New York – USA (September 2 – 14, 2012)
Hurley Pro at Trestles – USA (September 15 – 23, 2012)
Quiksilver Pro France – France (September 26 – October 6, 2012)
Rip Curl Pro Portugal – Portugal (October 7 – 17, 2012)
Billabong Pipe Masters – Hawaii (December 8 – 20, 2012)
For more info on the women's 2012 ASP World Title wchedule and the 2012 ASP Prime schedule, check out www.aspworldtour.com